How To Decor Your Balcony?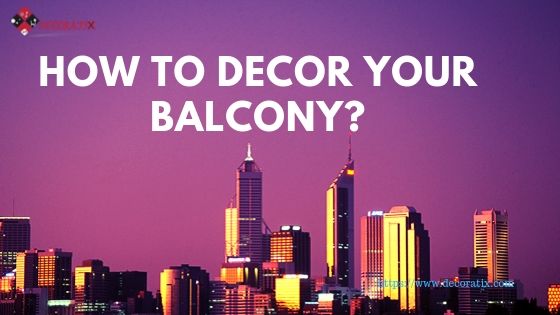 Basically, a balcony is a wall protrusion which is placed on the outside of several buildings- such as hotels, offices, and apartments or home. The balcony is that part of our home where we get comfortable sitting. Decor your balcony is most important for everyone.
The balcony is normally the last place you have in mind when planning a remodel or renovation for your home. It usually gets overlooked but the fact is the balcony is a most important place and a great asset to a home.
Suggested Read: How to make the perfect home garden?
To Decor a home balcony is necessary for us. So here are 8 small ideas to decor your home balcony with the perfect design and ideas
1. Use Perfect Lighting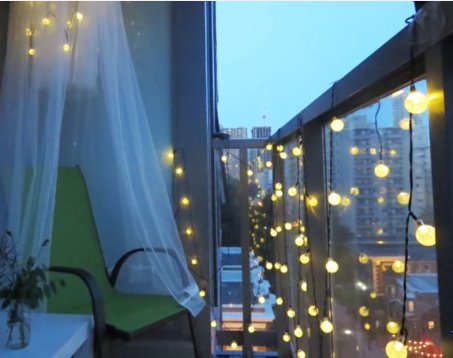 Whether your home balcony is enclosed or not, you have to make sure it's properly lit. There are many numbers of options to pick from. Go for a playful look and use strings of lights or lanterns which you can hang on your home balcony walls or something simpler like a  sconce or lamp.
2. Sitting Arrangements

Firstly, make some sitting arrangements if possible. If your home balcony is far enough, maybe you can fit in a pair of chairs and a little table or maybe a small bench in the corner. It's most important to make it look inviting and comfortable.
Suggested Read: How to make the perfect home gym?
3. Use Some Beautiful Plants & Flowers

It's a very common practice to decor our home balcony with potted flowers and plants. You can change the place into a green and fresh oasis. Hang the plants on your home balcony walls, on the railings, tables or just place them on the floor wherever there's any free space.
4. Beautiful Flooring

The worst part about your home balconies may be the cold concrete flooring. Unless you've had a tetanus shot recently, you don't want to step outside with naked toes. But that can simply be remedied by hovering over it. We use "Cover ugly, outdated, or cracked patio flooring with easy-install wood or plastic patio tiles." By doing this our home balcony flooring looks good.
5. Hang Some Greens

On a little balcony, think vertically—particularly when it comes to plants, Reiner stresses. Hang potted plants from the ceiling with a sturdy hook, or in wall-mounted planters in your home balcony for greenery. Use some greenery for your home balcony designs are the best part to decor your balcony. Use some greenery for your home balcony is the best part to decor your balcony. Because of use this we get fresh air and positive vibes.
6. Use Small Tables & Chairs

Place a little table with one or two chairs, so that in hot and pleasant days, you can enjoy fresh air with your morning tea or coffee. Using small Tables and Chairs is also quite free from a lot of space. From which we can do our other things. For example, planting, lighting etc.
7. Space-Saving Accessories

If you have a small home balcony then you won't be able to fit a large table and chairs in there. In this case, search for options like fold-down tables which you can add to the railings for example.
Some Importance of Balcony in a Home
The beauty of a home has loved by a balcony and everyone wants it into his home. People used to spend more time in our home balcony to get fresh air, to have a look at the outside activities and sometimes to appreciate the beauty of nature at night.
A balcony is a very great place for those who love to spend more time in silence and peace, it is also a very great place for book lovers.
There are several benefits of having a balcony in your home. One of the biggest benefits of having a home balcony is extended space. That's the reason why many people used to prefer balcony in their home.
A balcony is loved by many people due to the different place in the home. The outdoor location of home balcony makes it the very best place to spend time alone.
Balconies are normally separated from the all room area by a door and you can simply access it by the opening. Open the door and enjoy the extended, large area.
The balcony gives you security and privacy that yards and backyards won't provide. You can rest on your home balcony anytime without getting worried about your any neighbor's disturbances.
You all can also enjoy any kind of book as no one can see in your home at such height. And also improve your home by setting beautiful plants and flowers to your home balcony.
Try hanging climbers to your home balcony railing and watch the beauty of your home. The benefits of the home balcony are not covered to anyone.
The Bottom Line
You can achieve your dream home with a structural balcony and enjoy a healthy and peaceful life! Every home balcony, no matter how small, deserves a chance to be useful and beautiful.
FOLLOW US