Easy Craft Ideas For The Home: To Get A Instant Fresh Look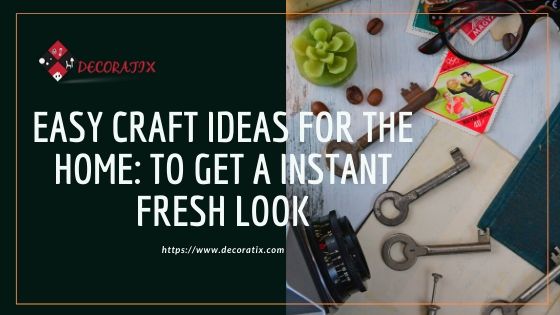 It is not necessary to always use the more expensive things to decorate your home. By using easy craft ideas, you can also give your home a stylish look or instant fresh look. And use this type of easy craft ideas for the home, because it is in the budget for everyone. You should try easy crafts for the homes it will help you to create instant beautiful art.
Everyone wants to change his/her house into an amazing and perfect look. Some people buy things from the market and the craft store. But why! go outside try your homemade crafts ideas that help to create your a beautiful instant look with some of the easy craft ideas. So you should try these amazing and instant craft ideas that give a perfect touch to your house into in small space area.
Best Craft Ideas For Home
These easy craft ideas are the best and great option for everyone to get an instantly fresh look for your beautiful home. And here we have some of the best 15 easy craft ideas for the home which are really the best choice for you! and make your home stylish. So why are you wasting your time just come with us…. Decoratix will help you!
1. Candle Craft Cube Lanterns
2. Use Branch Candle Holder
3. Crafty Lampshade
4. Use Brass Chandelier
5. Magnetic Knife Holder
6. Use Folded Felt Bowl
7. Make a Pretty Wall Shelves
8. Crafty Towel Rack
9. Use Double Box Shelf
10. Simple Brass Toilet Paper Holder
11. Make a Stylish Shoe Rack
12. Use Wooden Slat Frames
13. Hang Plates On Wall
14 EAT Boards
15. Woven Wall Decoration
1.) Candle Craft Cube Lanterns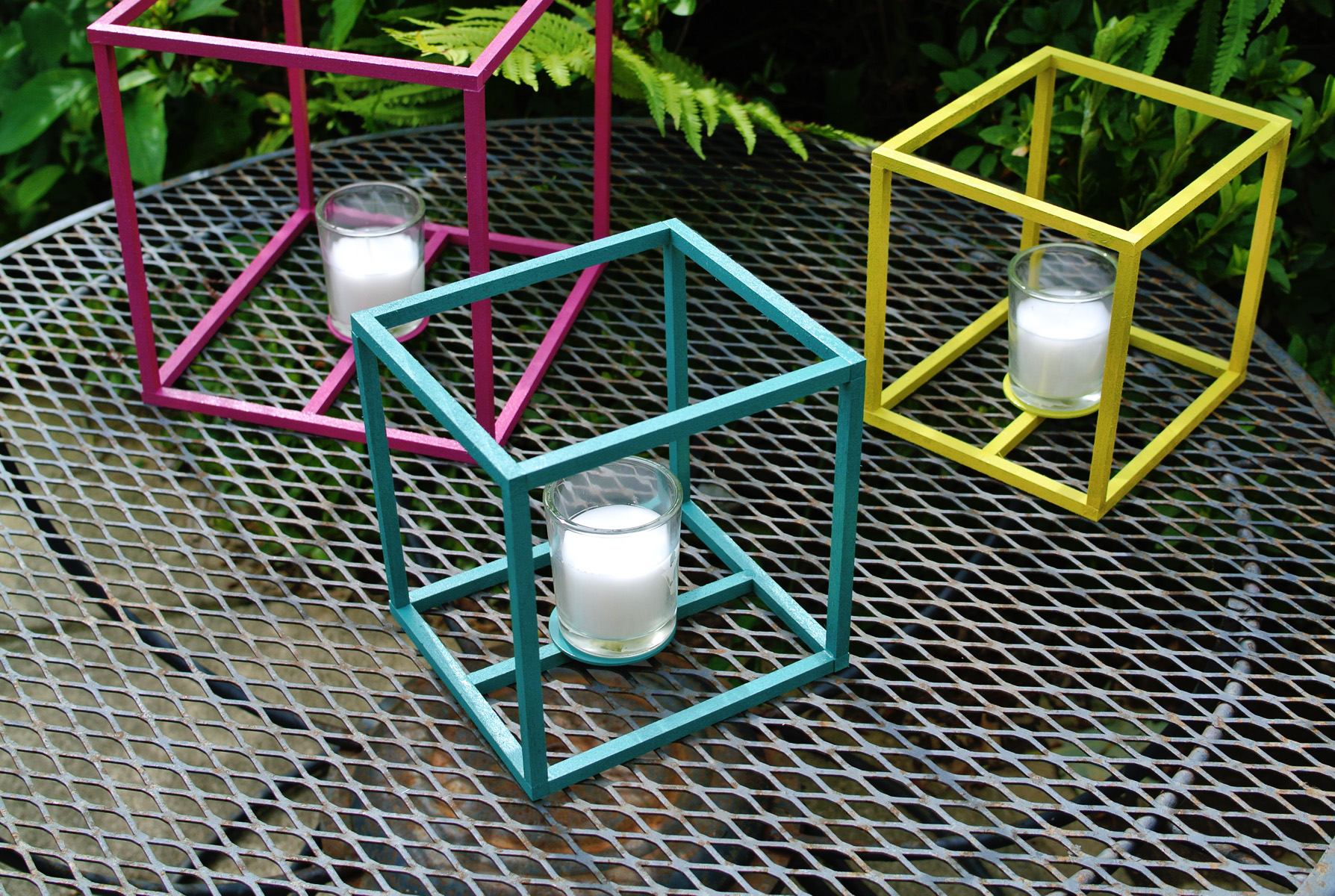 Use this easy craft idea is great for both indoor and outdoor use, these pretty little cube lanterns are very easy to make and all you need for that is some simple candles, glue, big washers, square dowel rods, and something to cut the rods with and some beautiful spray paint. And then your little cube lanterns are ready to use. it will give an instant beautiful look to your home.
Also Read:- Best And Easy DIY Art Ideas For Your Walls
2.) Use Branch Candle Holder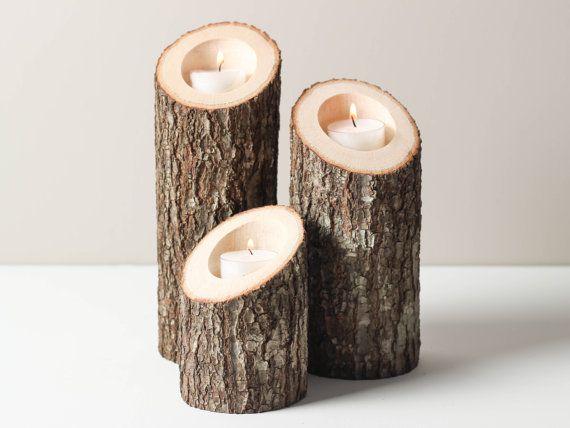 Some of our favorite easy craft ideas involve the use of driftwood or fallen branches. One of them is this branch candle holder which can be customized in much best variety of ways, based on the pretty type of branch you want to use, its shape, size and all sorts of other details. And try to make this, the whole process is too easy. Simply take a branch, sand it down a bit and properly clean it, then drill the holes for the simple candles and placed tea lights in them. And you can paint the branch with lovely colors.
3.) Crafty Lampshade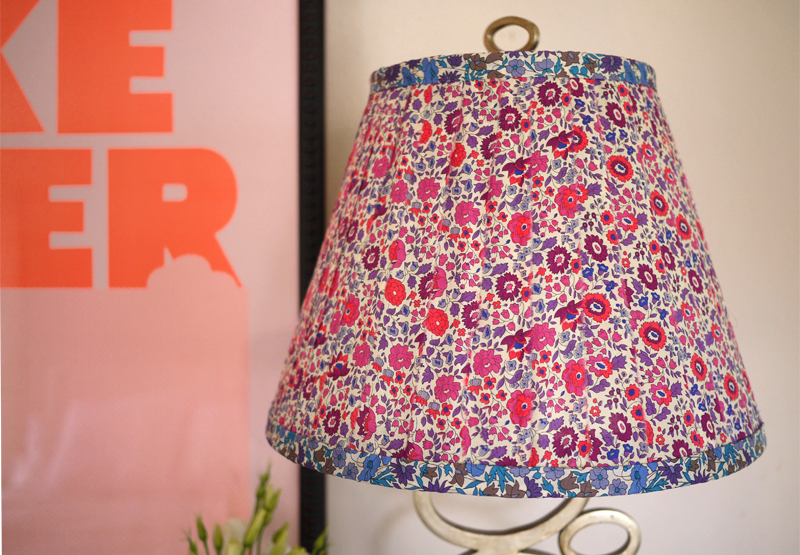 If you have a simple lamp and you think it's really nice but you feel like something is missing from its design. And this sounds not familiar at all? So it's a quite common situation and the solution can be very simple. Simply customize the lampshade. So for this one thing, you can do is to just cover it with pretty fabric. And then they look perfect and give a decent look to your home.
4.) Use Brass Chandelier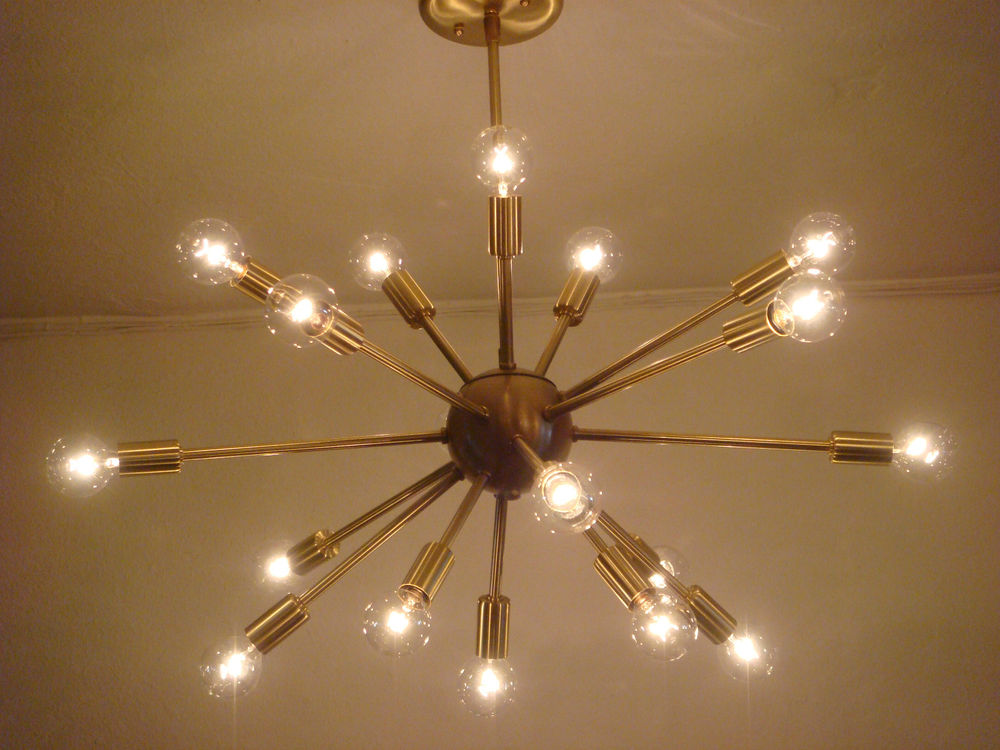 Try these types of brass chandeliers. It is one of the best and easy craft ideas to give a marvelous look to your entire rooms and home. And also which you can make out of fittings and pipes. You can give it any type of shape you want and you can play with the pieces in all sorts of cool and modern ways.
5.) Magnetic Knife Holder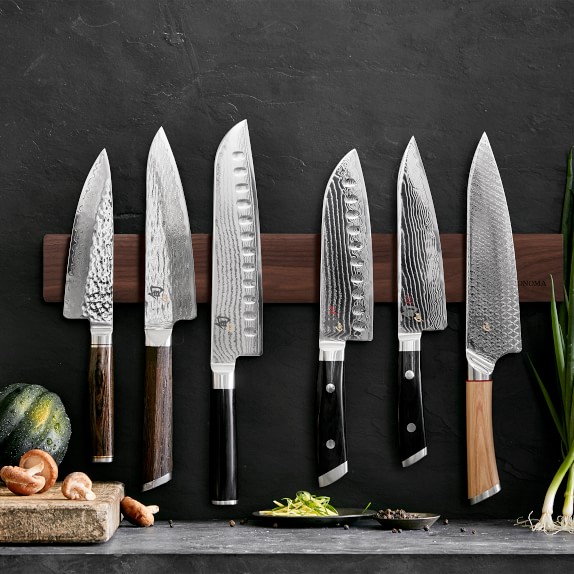 A kitchen is a king in everyone's home. It is our responsibility to keep the kitchen well maintained. And to do this, there is a lot of easy craft ideas, which will always be great for our kitchen. For example a magnetic knife holder. It is one of those types of things that you know you want but you just can't find the chance to buy for a variety of reasons. Well, it would be very easier to just make one yourself. So go get yourself a block of simple wood, a drill, strong glue, a collection of round heavy-duty magnets, a strong hammer and some brackets and nails and take all stuff into your own hands.
6.) Use Folded Felt Bowl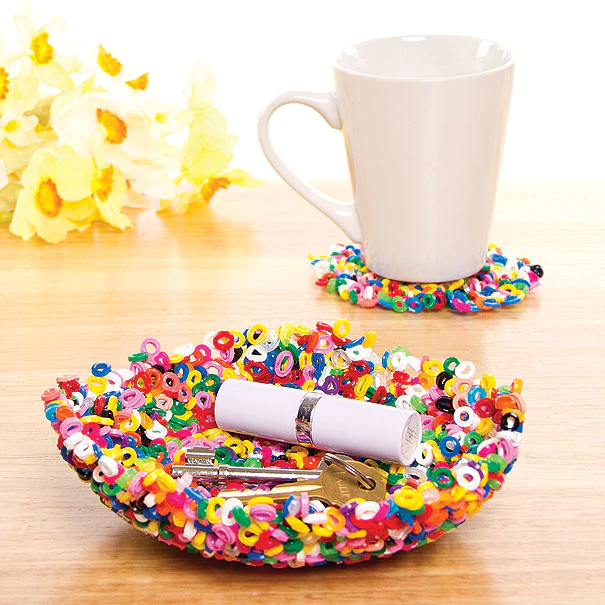 This folded felt bowl easy craft ideas looks always stylish and cute and is also practical. You can keep your coins and keys in it or you can use it to store all sorts of other little things, adding potpourri. To make such a pretty and simple bowl you only need a piece of feeling, beautiful fabric glue, and scissors. That's it and then this easy craft idea prepared to easily. And give an instant fresh look to your home.
7.) Make a Pretty Wall Shelves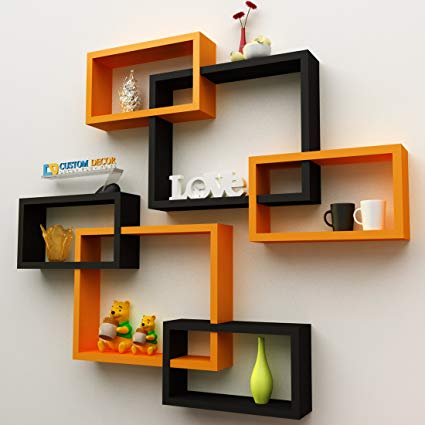 All these types of little and easy crafts ideas are definitely nice and very useful in their own way but sometimes you have to do something a little more drastic if you want to really improve your home decor or to make your home more space-efficient or simply give an instant fresh look. A simple idea is to make some pretty wall shelves for the garage. So don't worry, it's not that too much hard. You have some simple wood boards, a miter saw, and some screws or nails and some mounting hardware.
8.) Crafty Towel Rack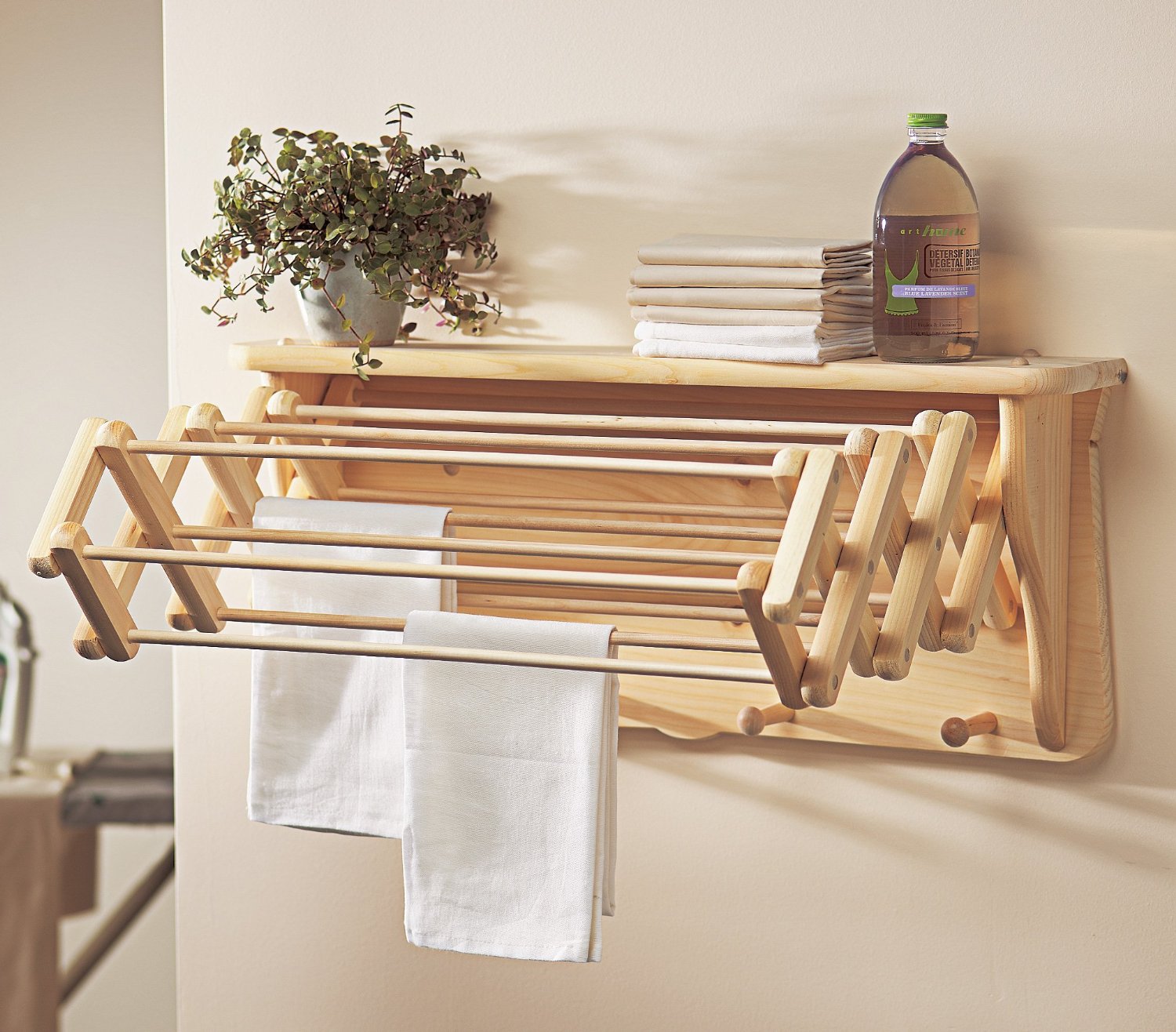 Another useful and easy craft ideas that can make a big difference in your home decor is the use of crafty towel rack. Simply you can make one out of simple metal pipes and fittings and you can include a pretty wooden shelf as well so you can keep more types of things on it, like planters, toiletries or extra pretty towels.
9.) Use Double Box Shelf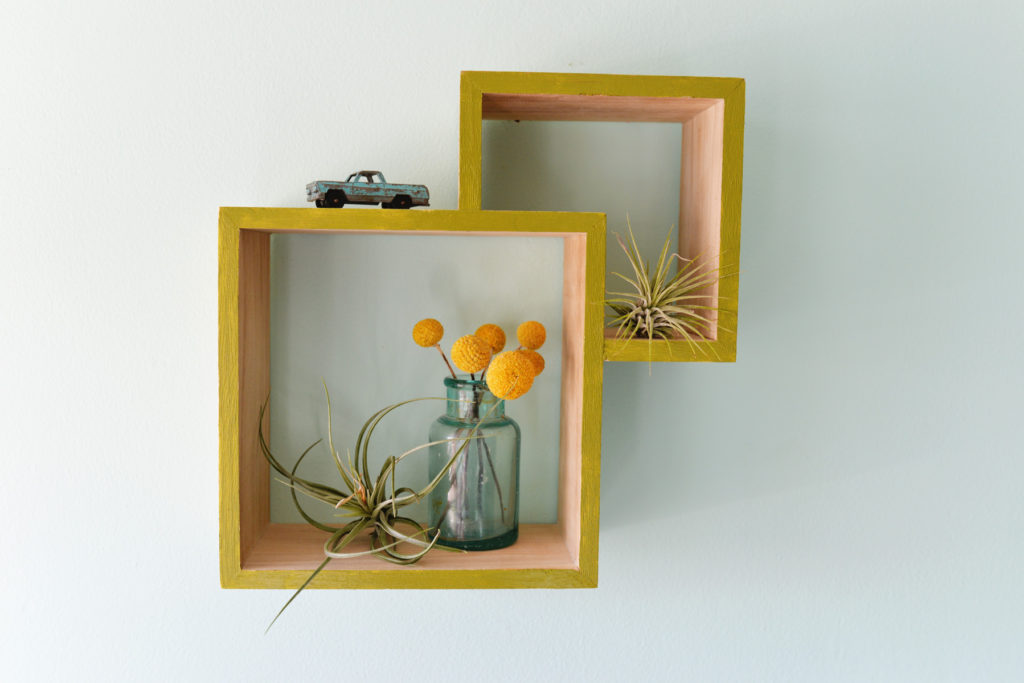 This design or easy craft ideas are very common in modern and contemporary home decors. And it is too easy to make it by yourself.  You just need the following things: two simple wooden boxes, craft paint, a paintbrush, a saw, strong wood glue, a hammer, four small nails, and spray lacquer. And always feel free to use your favorite colors.
10.) Simple Brass Toilet Paper Holder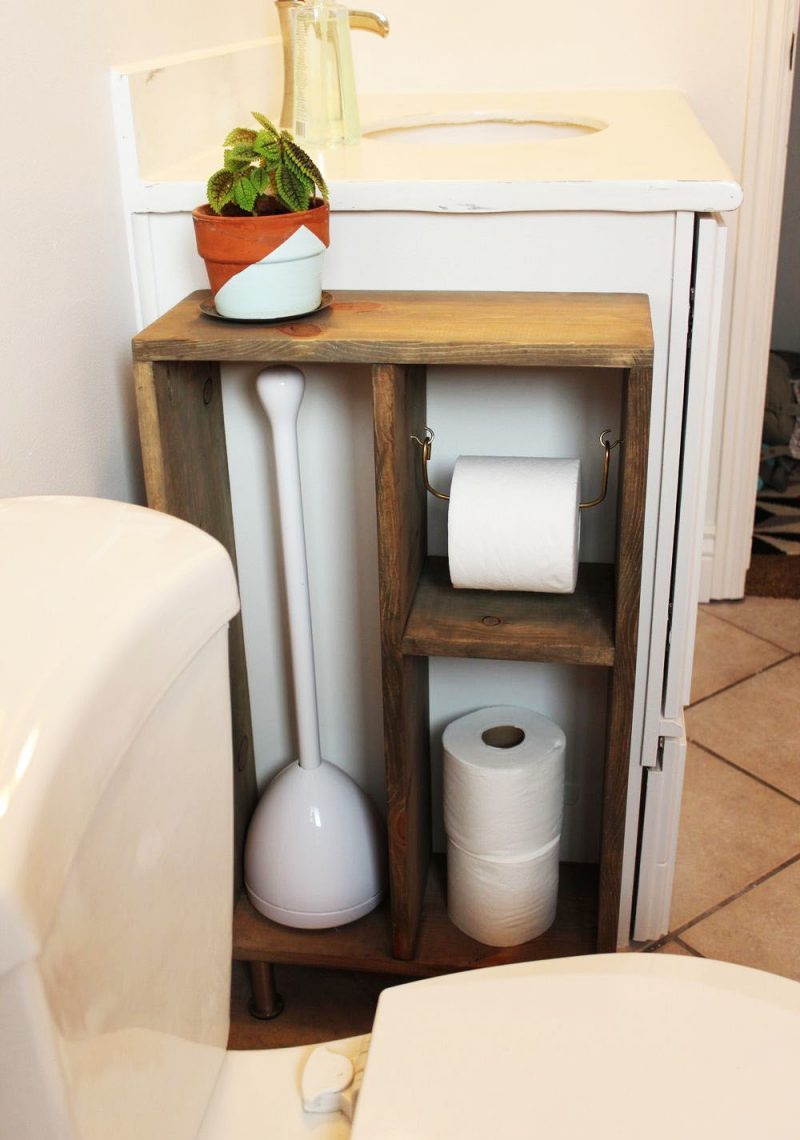 For your home bathroom, a quite simple and at the same time useful easy craft ideas can be a custom toilet paper holder. You could make one out of some simple brass wire and you could add it to a box shelf which, by the way, would also be very easy to make from scratch. It is too simple brass toilet paper holder which you can easily craft in only a few minutes to give a nice way to personalize your bathroom.
11.) Make a Stylish Shoe Rack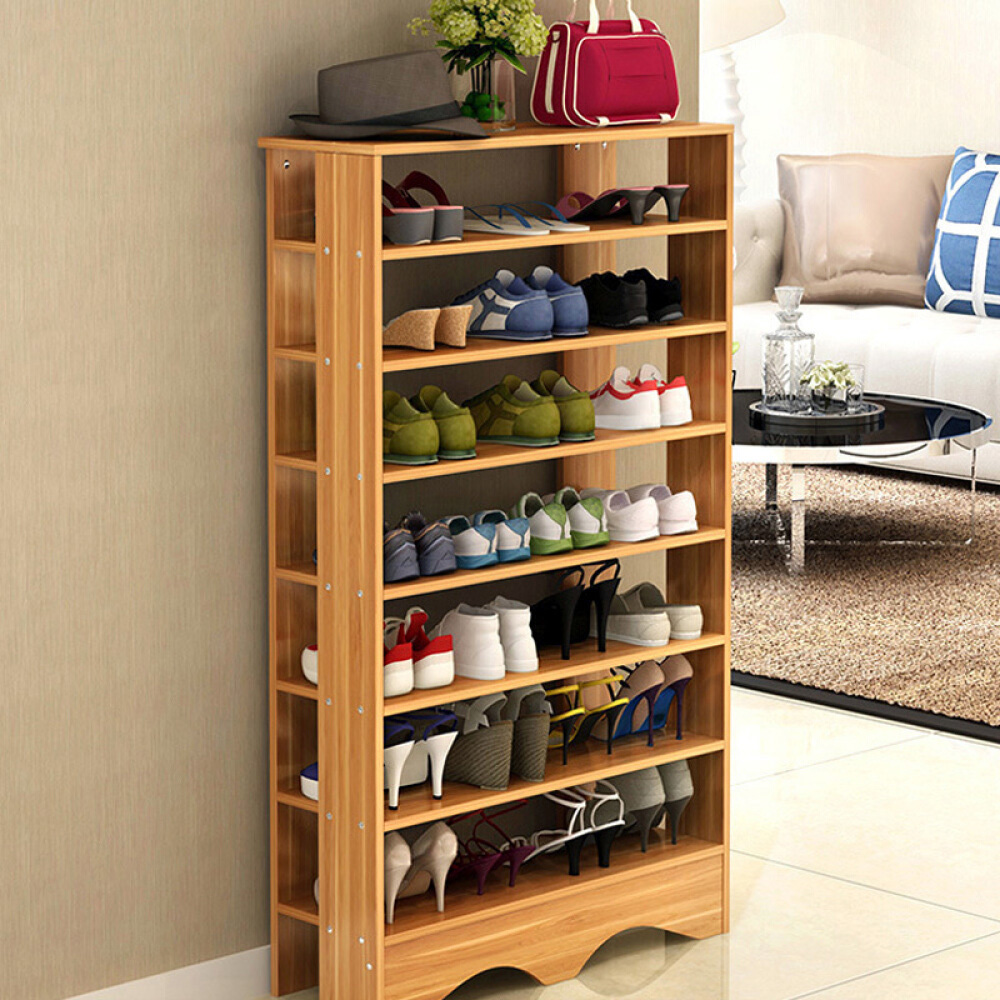 Every entryway needs a nice shoe rack, it's a normal thing always. Really, this is not an accessory expensive to entryways. You could also include it in a walk-in closet to improve its storage-efficiency. And to make a best and stylish shoe rack, not to much hard task. And also these great and easy craft ideas always is in everyone's budget.
12.) Use Wooden Slat Frames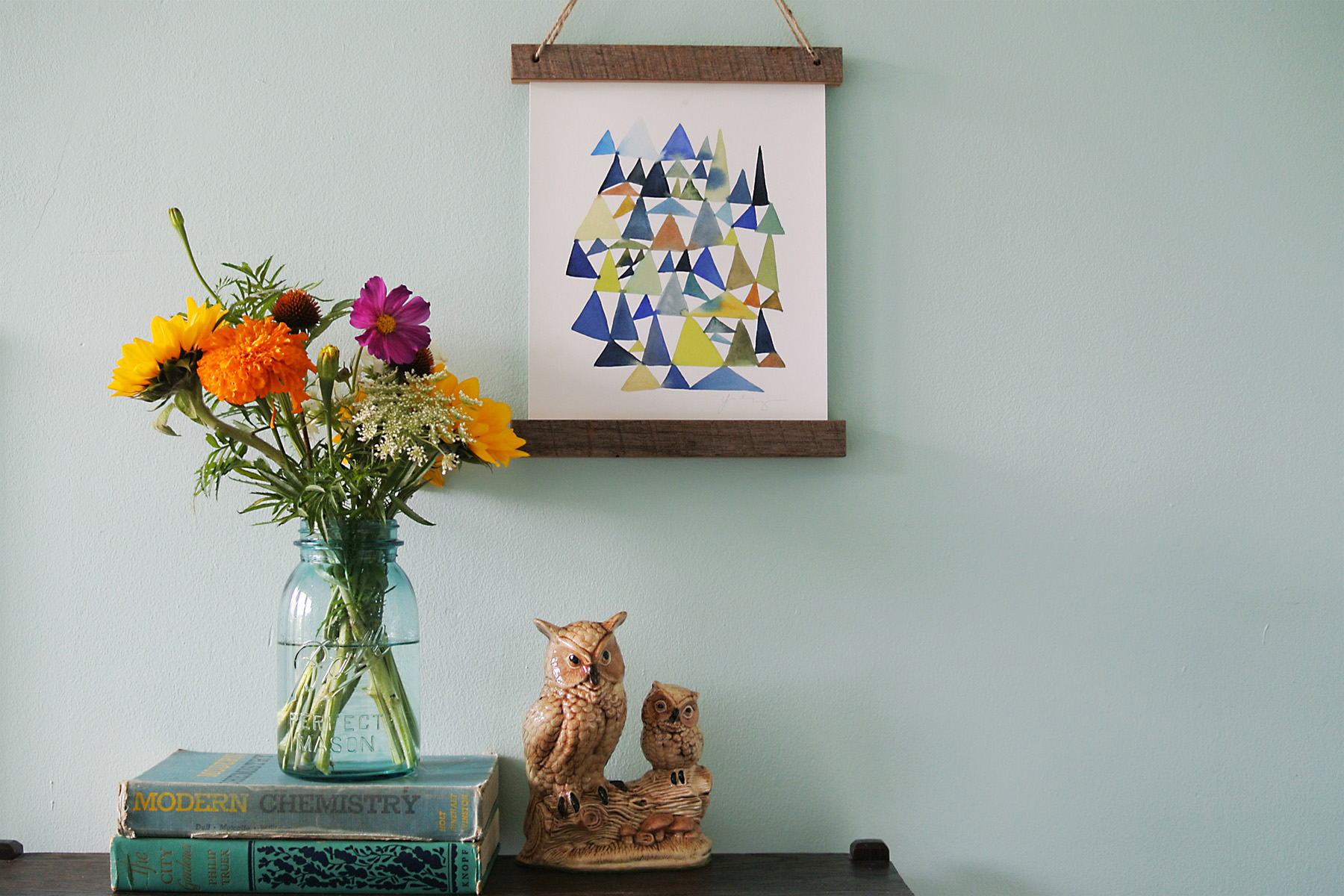 Decorate walls with design posters using wooden slat frames is one of the best and easy craft ideas. To make something like this you only need some things such as a long and rectangular piece of simple wood, some beautiful sandpaper, a drill, a saw, two Popsicle sticks, some twine, and paper print. Just then will your wooden slat frames be ready, which you can hang on any of the walls of your home.
13.) Hang Plates On Wall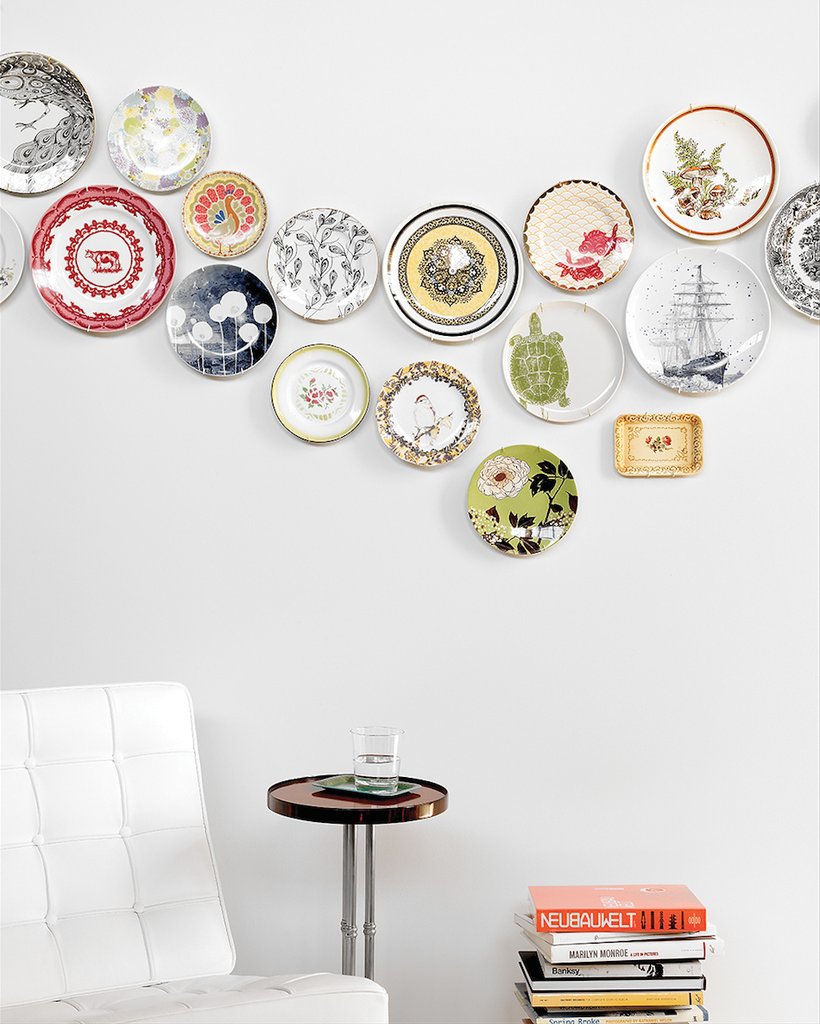 Some people like to hang simple plates on their walls to give an instant fresh look to our home. And also some people could do the same in our dining area or kitchen room. So choose some simple plates in different shapes, sizes, and pretty colors and display them on a wall using picture hangers and glue. These types of easy craft ideas is to a great option for everyone's home.
14.) EAT Boards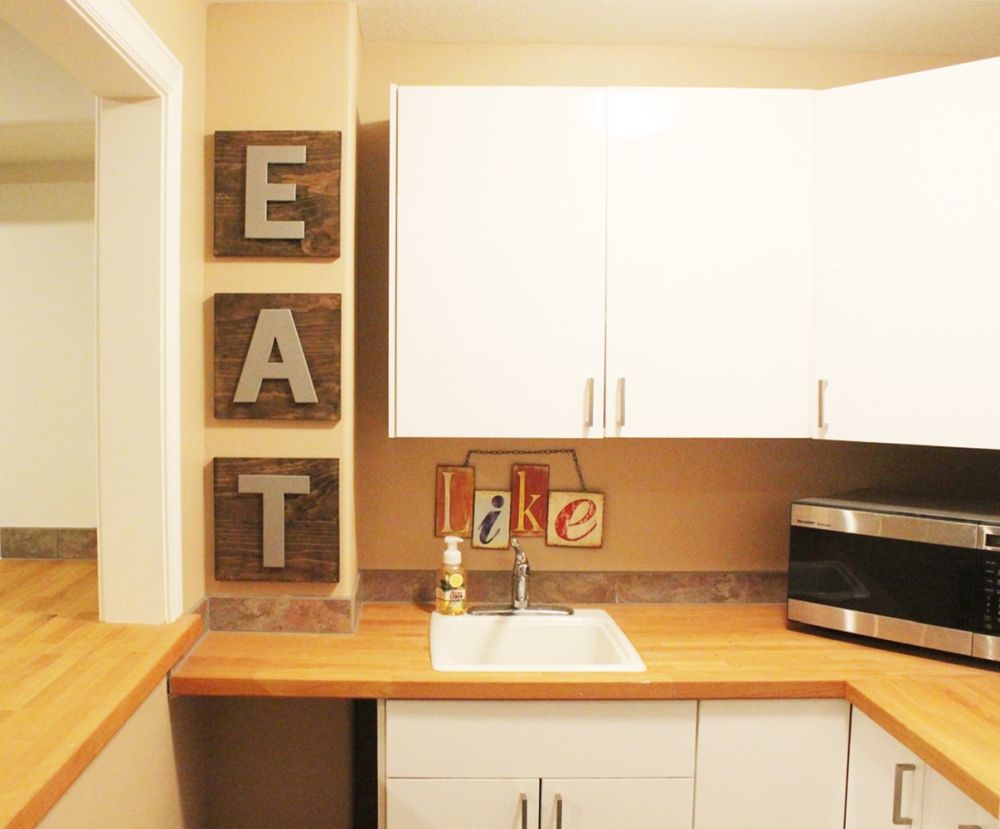 So are you desperately looking for something to display in your kitchen, to fill that empty wall or column? So for this EAT boards is a great option. These boards seem to be simple to look at but give an always classy look to your kitchen.
15.) Woven Wall Decoration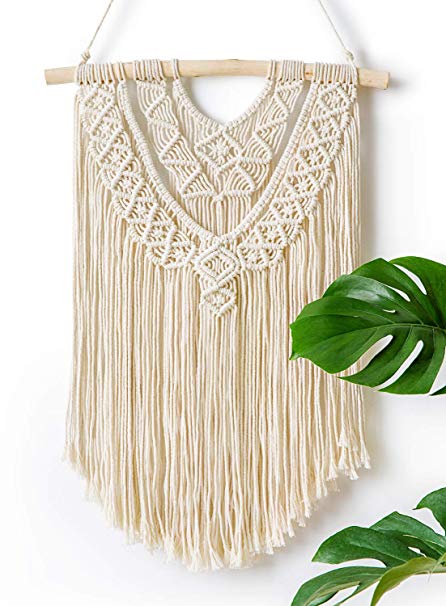 Simple woven wall decoration with a lot of charm gives an instant fresh look to your home. It is easy to make it by yourself. And if you are thinking that this is a big task so don't worry. It's nothing too big or complicated. You simply need a rectangular piece of cardboard, some yarn, a wooden dowel and scissors to complete this amazing craft.
We get some easy craft ideas for your toddlers that help them to create some easy and funny craft activities. 5 Easy home crafts ideas for toddlers that you and your little one will love definitely. As
Easy Craft Ideas For Toddlers To Make At Home
Toddlers know the simple way of activity they are naughty, they do different,-2 activities at the same time. Tell them to go with some crafts and motivate them with their art and crafts. As your toddler's tiny hands experiment with mixing colors and creating swirls on the page. He won't just be entertained he's also flexing important developmental skills, exploring his imagination and gaining a sense of independence by creating something of his very own.
a) Homemade Stamps Craft
b) Paper Plate Sun Craft
c) Painted Pasta Necklace Craft
d) Leaf Painting Craft
e) Paper Cup Flowers Craft
f) Caterpillar Suncatcher Craft
Ready to dive in? So scroll on for fun and easy crafts for toddlers.
a) Homemade Stamps Craft

Toddlers love dipping stamps into ink papers or paint and leaving their mark all over the page. using simple household items to make your own stamps, such as wine corks, bottle caps and toy pieces, which are easy for tiny hands to grab.
b) Paper Plate Sun Craft

Here comes the sun! This fun and simple paper plate craft will definitely work on those fine motor skills, as little ones carefully glue each of making the sun's rays with Akka yellow pipes. And get the easy sun craft.
c) Painted Pasta Necklace Craft

Encourage your little ones to make their very own wearable art with nothing more than some pasta noodles. Also, paint on the string. You will probably have to give your toddler a hand stringing each noodle, but chances are they'll love wearing the finished product.
d) Leaf Painting Craft

Before getting started on this craft, take a walk with your little one and encourage him/her to pick out different leaves that catch his eye. After, watch as he paints each one leaves in a pretty color and creates leaf impressions across the blank page. Nature-inspired art teaches toddlers to learn about the world about them in a completely new way.
e) Paper Cup Flowers Craft

This pretty flower craft idea makes for a fun. It is a good idea afternoon activity, and it's also a great gift for Mom or Grandma. It includes drawing a simple white paper cup with a small stone and then cutting the sides into strips to create the petals, though, for toddlers, you will need to step in with that part.
f) Caterpillar Suncatcher Craft

This caterpillar suncatcher offers your toddlers aa fun indoor activity. Using the colorful tops of extra play-doh lids, you can help and guide your little one as he sticks them to the window, making a happy little caterpillar. Then show him where to glue on the tiny caterpillar legs, ears and eyes to complete the friendly face and enjoy to learn the easy craft.
Conclusion
Therefore it's all about easy craft ideas for the home to get an instant fresh look. These craft ideas are too simple to use and also is in everyone's budget. It is not necessary that these simple ideas can be made only which people who know art. This is too much easy craft that everyone can make it. Add these given easy craft ideas that help you definitely! 🙂
FOLLOW US