Incredible Professional Office Wall Decorates Ideas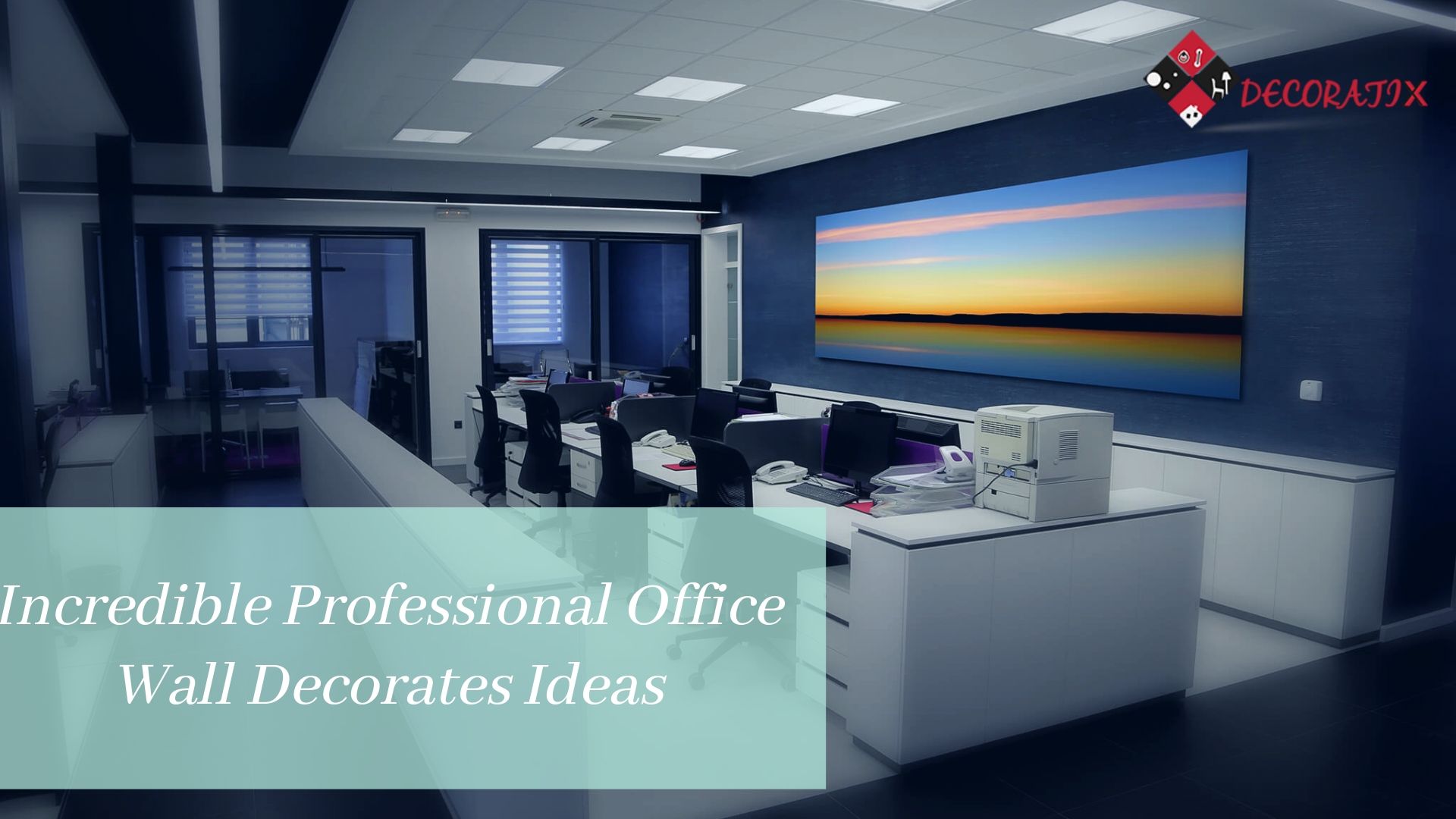 As we all know everyone wants to live in an inviting atmosphere. Because it plays a huge roll in your overall mood and productivity. But did you know that a well-designed office space like a professional office wall decor ideas can help and make an impact on the success of your business?
Learn how to decorate your office walls? "Decorate your office like a professional office design ideas, it can properly have a tremendous effect on your business".
Office Wall Decoration Ideas
The most productive office space decorations balance the comforts of home, with a professional business image. Aka a stylish setting full of color, life and inspiration lead to a happy, healthy work environment for your team members to thrive in.
Your Office design Ideas should embody your company's values in a way that makes everyone at work and feel positive and great. It also increases your work speed strengths.
Take these top 14 Office wall decor ideas to adorn the office interior that's Inspired you and Your environment every day!
Let's have a brief about all the ideas that can help you to decorate your office walls with the best decoration ideas.
1)Wall Sculptures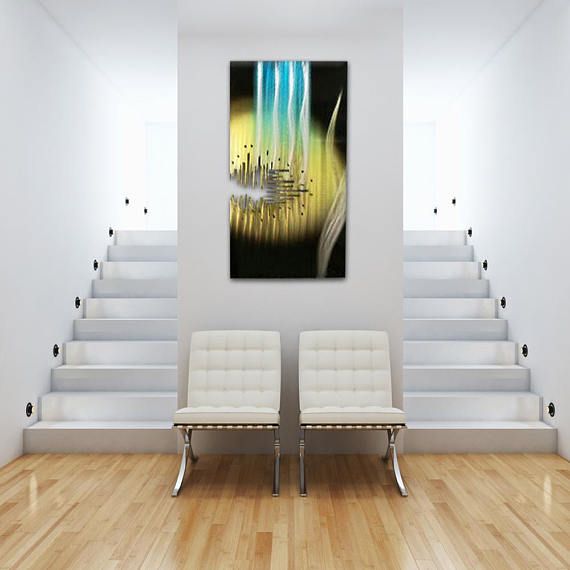 Looking for a way to add texture and a sense of layering to your office walls? Wall sculptures are the perfect solution. Featuring a wide range of styles, colors and even mediums. Wall sculptures create visual interest not only through their subjects but through the use of 3D effects. Use wall Sclupets on Your Office wall and Get better, elegant Looks in your office spaces. buy it from our shared link.
2) Floating Office Shelves For Wall Decor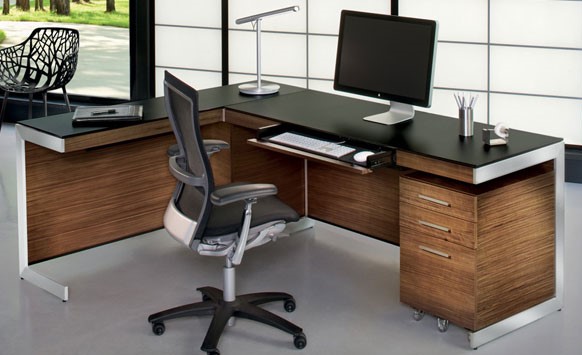 There is no better way to utilize a blank office wall for a shelf. A floating office shelf in office space that is used to be for placing files and documents. You can use your office shelf in so many more ways.
You can decorate it with small, attractive sculptures, photo frames, sayings, and motivational quotes to keep you going. And more you can personalize your office walls and space by keeping things that are special to you on an office wall shelf. This would not only look good but give some heart to your office.
3) Hangings Alphabets on the wall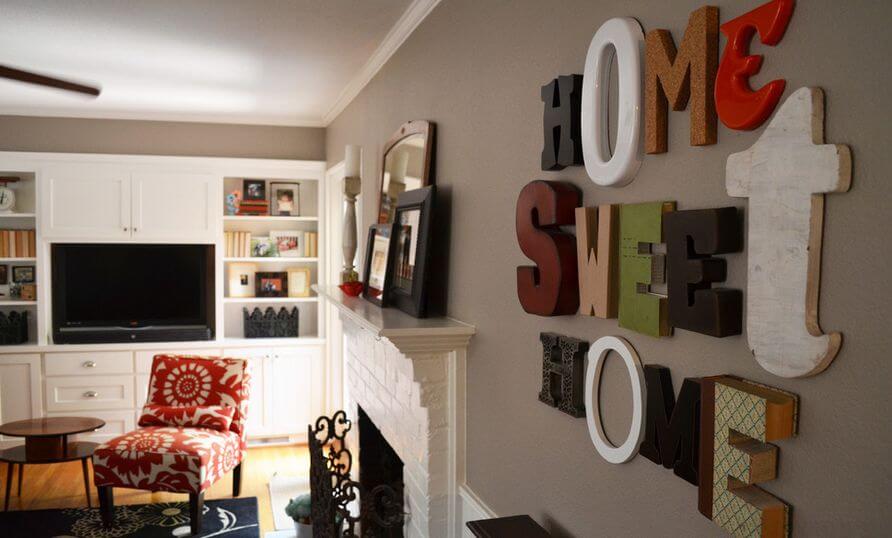 You can use your office wall to hang the initials of your name. This is the best way to personalize your office space and feel like a boss. The more personalized your working space then more comfortable you will feel. Because you have good comfort at work, you will feel cool and you can concentrate and focus better on works.
Hanging alphabet's photo frames on your office walls, that are available in many colors in the markets. You can choose the colors that go with your office theme and hang them to get a cool look.
4) Canvas with Sayings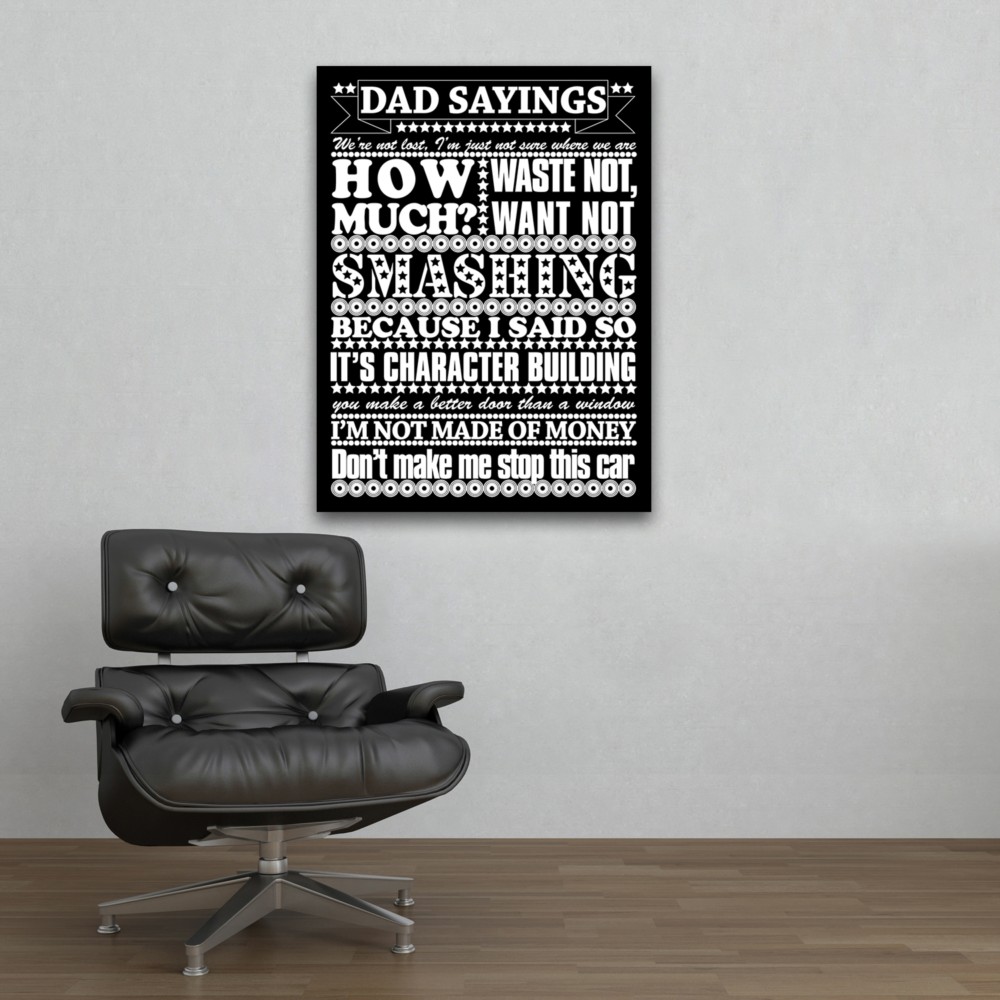 Everybody needs motivation things quotes and inspiring peoples in their life or atmosphere. If you aren't getting motivation from anyone else, you should work on motivating yourself. You heard that right! You don't have to rely on anyone because you can do that favor to yourself.
Hanging canvas on your office wall with your favorite saying would get the job well done. Every time you look at it. It will be a reminder that you need to achieve bigger things in life.
5) Fun Pattern wallpaper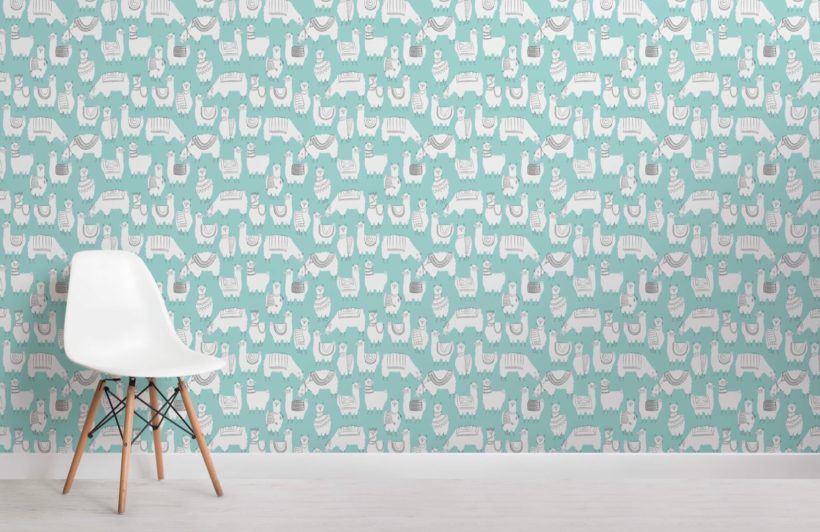 Pretty wallpaper can drastically transform the overall look of any room. Why can't that room be your office? Office wallpaper design is usually minimized and overlooked at the time. Office wall art, as mentioned earlier, has a significant impact on the mood and energy of the employees. Add wallpaper design modern look to your office.
Therefore, you should always pay attention to this detail. Colorful, attractive, and fun pattern wallpaper would be perfect for the stressful atmosphere of the workplace. It will lighten up the mood and brighten up the office area. What else would you want? this can increase the beauty of your wall and give a finishing touch.
6) Acrylic Wall Calander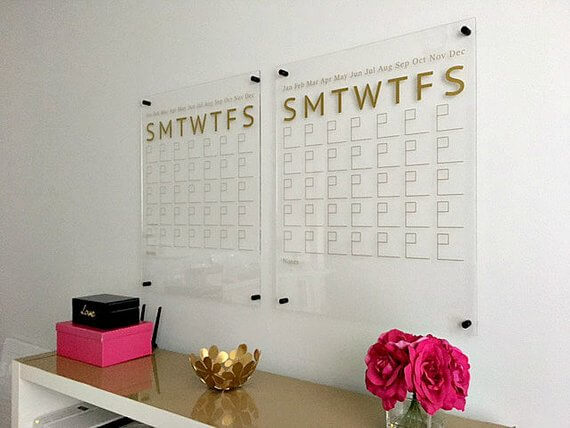 Meeting the deadlines and keeping track of all activities is what keeps you ahead of others from any workplace. At the same time, things are so jumbled up that they start slipping from your hands. In some cases, a large acrylic wall calendar is super helpful. It lets you mark important dates and it works like a remainder. So add a pretty acrylic wall calendar for the cabins. And set or mark and erase your remainder colander with acrylic design pattern.
Since it is large and displayed on your office wall, it just can't go unnoticed or forgotten, It also makes an attractive wall art. It brings a blank wall into the function while serving a decorative purpose as well. You can put the calendar on your working table as it gives you eye contact and remainder.
7) Pressed Flower Frames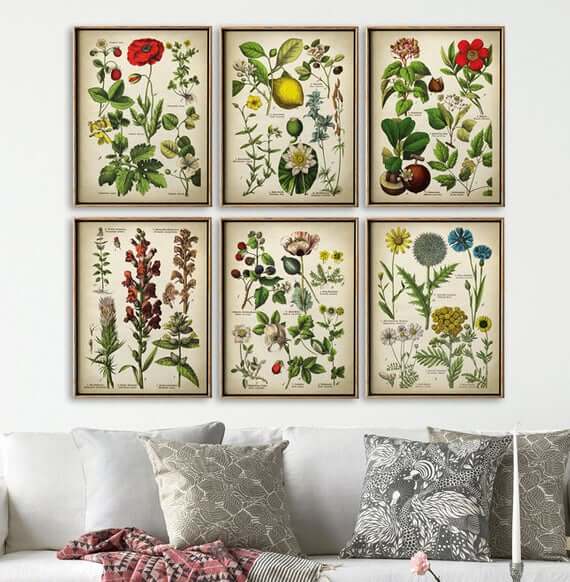 Flowers look beautiful, no matter where they are placed. Flowers can make the atmosphere lively and fresh. Most of the people have flowers in their homes, especially the living area and kitchen. Why not bring this freshness to your office area as well? when you add pretty flowers and other greenery plants in your office it increases your atmosphere fresh and feels positive.
The office environment can become dull and stressful. Adding flower frames can lift the atmosphere. Do you think flowers won't last long indoors? Don't worry. You can hang frames of pressed flowers on your office walls. This would serve two purposes at the same time bring the freshness of flowers and decorate a plain office wall that gives your mood a great fresh mind. Add pressed flower frames on the wall if you want to buy Click our shared link.
8) Woven Wall Hanging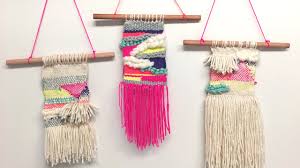 You cannot go too bold with the color choices in the workplace. Woven wall hangings are easily available in neutral and soft colors like beige, brown, and off-white. They will look sophisticated, elegant, and stylish in your office. They are a great way of decorating a plain office wall that looks dull and boring. Add woven style hanging colorful pattern, and make the office wall shine and traditional look design.
9) Watercolor Wall Painting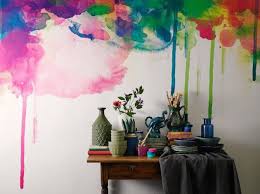 Painting is a famous element to decorate a wall or room. it can increase your wall wellness. A wall painting in colors that blend well with the shades of furniture and flooring completes the look of a workplace. A watercolor painting brings about a soothing and relaxing feeling. It is always a pleasant sight to look at.
Hanging a watercolor painting in your office will help you relax when you are stressed. Moreover, they look gorgeous! So, why not? if you want other texture designs of paintings so you can adorn historical paintings designs and adorn them on the office walls. These historical paintings are available in online stores. If you want to buy it. Click on our shared link.
 10) Blackboard Planner With a wall decal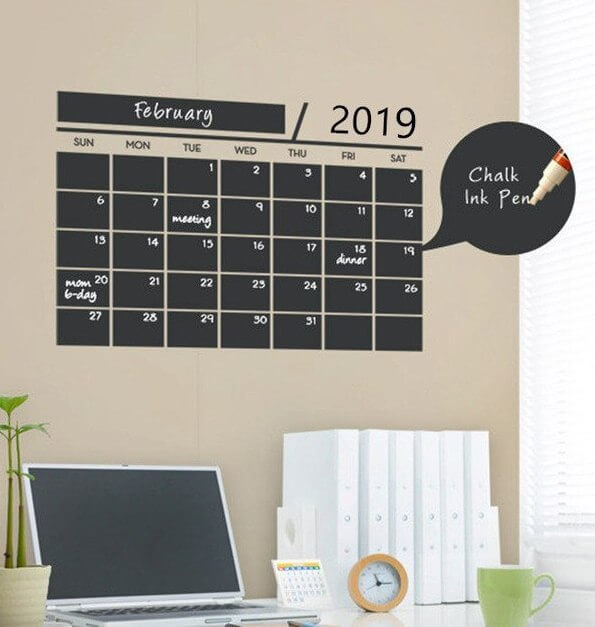 A blackboard planner with a wall decal saying "This Week" is a cool way of keeping track of your deadlines and meetings. You can simply mark on the blackboard planner projects that need to be submitted over the week or the meetings you need to be present at.
A note in the diary or a post-it on your desk can easily be overlooked. But when your entire wall is shouting reminders at you, you will be on track every time!. So add a blackboard planner with decal it can help you to customize and prepare the diary on a blackboard. buy from our shared link.
11) Bold Statements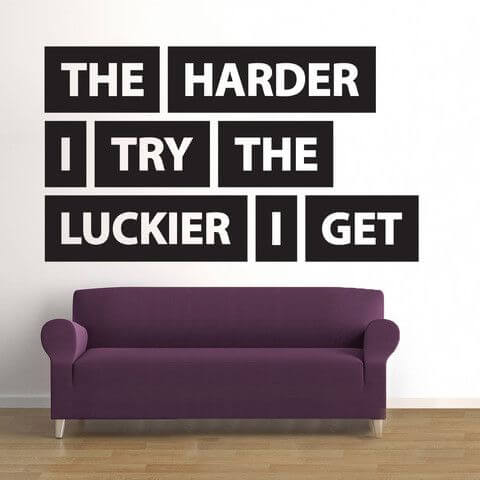 Boring office art is an old trend. Nowadays, companies are seen going bold with beautiful wall art. Then add motivational statement a large and bold font makes a powerful wall art and statement. It needs no additional extra wall art to get the message across.
A simple, straight-forward, and bold, and really motivational statement can make a professional wall look. It's sure to grab the attention of employees and visitors alike.
12) Monotoned Abstract Art for Wall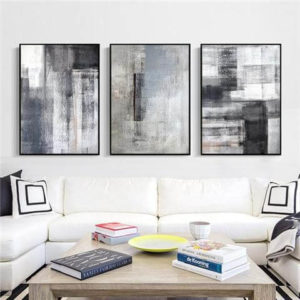 If you are someone who understands and loves art, you would know how attractive and attention-grabbing abstract art is? When abstract art is in black and white, it is more of a mystery that invites viewers to solve it. Hanging a monotone abstract art on your office walls will bring light, elegance, and attraction to your work areas.
When art is your favorite key. So add the beautiful abstract art for the office walls and hang them behind your back office wall.
13) Color code your office supplies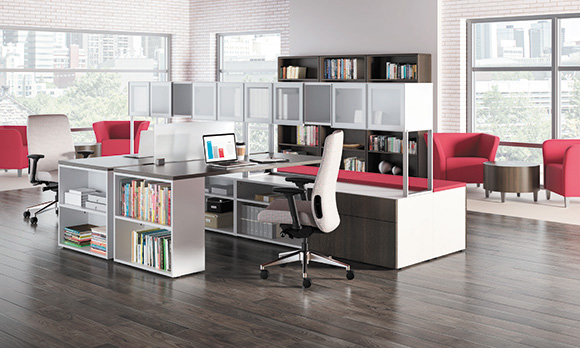 If you need to be creative, try to code the color of purple color. The blue and red color hues a good role. As the wall colors lighter you will fill fresh and feel free. Because the light color produces a lighter mind and good for body experience. Color code can deeply affect how productive you are.
Logically, think that the blue colors affect your mind, and read your body, yellow your emotions and green your balance. By mixing these colors, you can greatly affect your work behavior and productivity.
14) Paint an accent wall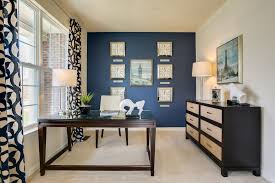 Add some pretty accent wall colors in your working areas Good lighting paint colors is one of the important elements of a well-designed office. Your space can be equipped with the most unique furniture, the best color combinations and chic desks, it can enhance your office walls bright and beautiful. You can add another color accent to the walls. It will create a good color combo for the viewer and for the walls. Accent wall colors really famous and it is highly used for the exterior decorations.
We bring some other office decor ideas like professionals wall art design and interior decoration ideas. This can create a perfect wall design and a perfect impression.
Office Wall Art and Interior Designs Decoration Ideas 
Office wall art is a trendy fashion nowadays. Everyone loves art, If you are an art lover and want to decor your office wall with amazing wall art designs So you can add different types of wallpaper design for your office walls. You can apply on the office wall different and most useable thing as some interiors accessories adorn them into your office decoration.
Use the best office interior design that inspires you and your office employees every day!. As every person wants to make his/her company or business smart. So no need to worry comes up with us and peers with amazing office wall decor ideas with amazing wall art designs that create an antique and impressive look to your office walls and office organization.
Decoratix brings for you the best Office wall art & smart office interior design ideas that may help you to decor your office walls classy with a professional look. We get for you 7 best wall art and interior design ideas.
Let's continue reading the following given wall art ideas and design decoration. So start to learn how to decorate an office properly that can have a tremendous effect on your business.
1. Large Abstract Painting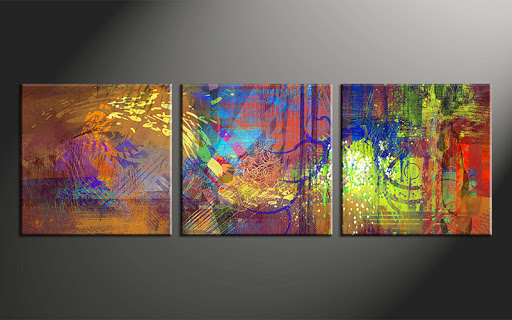 Large paintings are the huge demands in the markets because large painting is high uses in the office areas. That can create real abstract touch and the perfect cover of the window. 
2. Acrylic Abstract Wall Art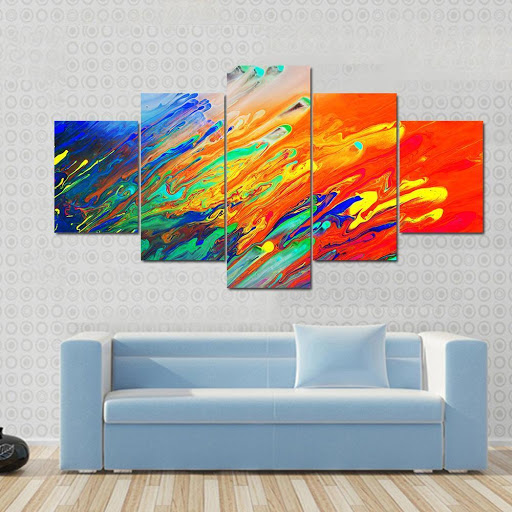 Large and abstract art is widely used for custom handmade design. Shop from the market and apply as a good painting wall art. this used on acrylic painted walls. This shows the individual elements for the wall art color line texture space all of these.
3. Texture painting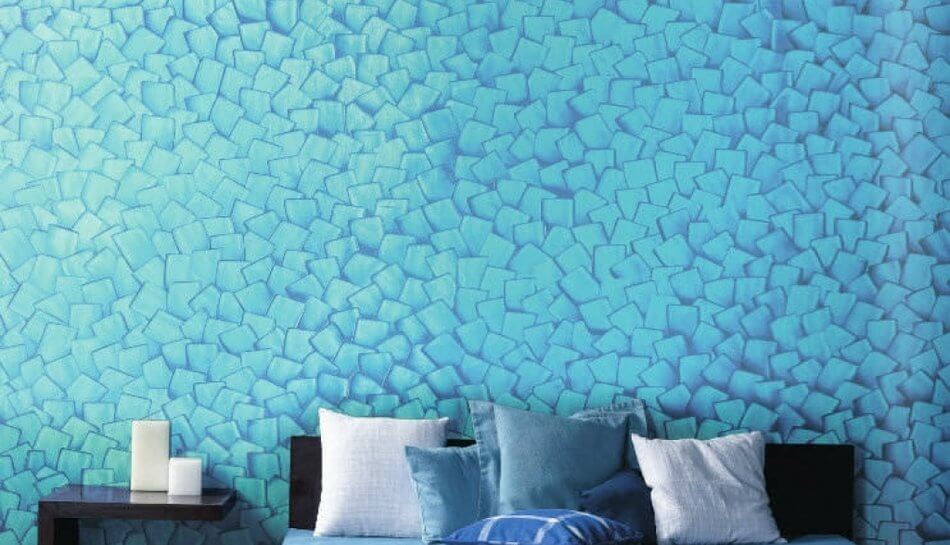 Texture painting gives an extraordinary look to your walls. It is a very popular type of paint to cover the dryness of a wall. The paint has heavy consistency and consists of grains and sand. this is a very smooth texture of paint that shines so far and gives a royal paint look to your walls.
4. Modern Wall Canvas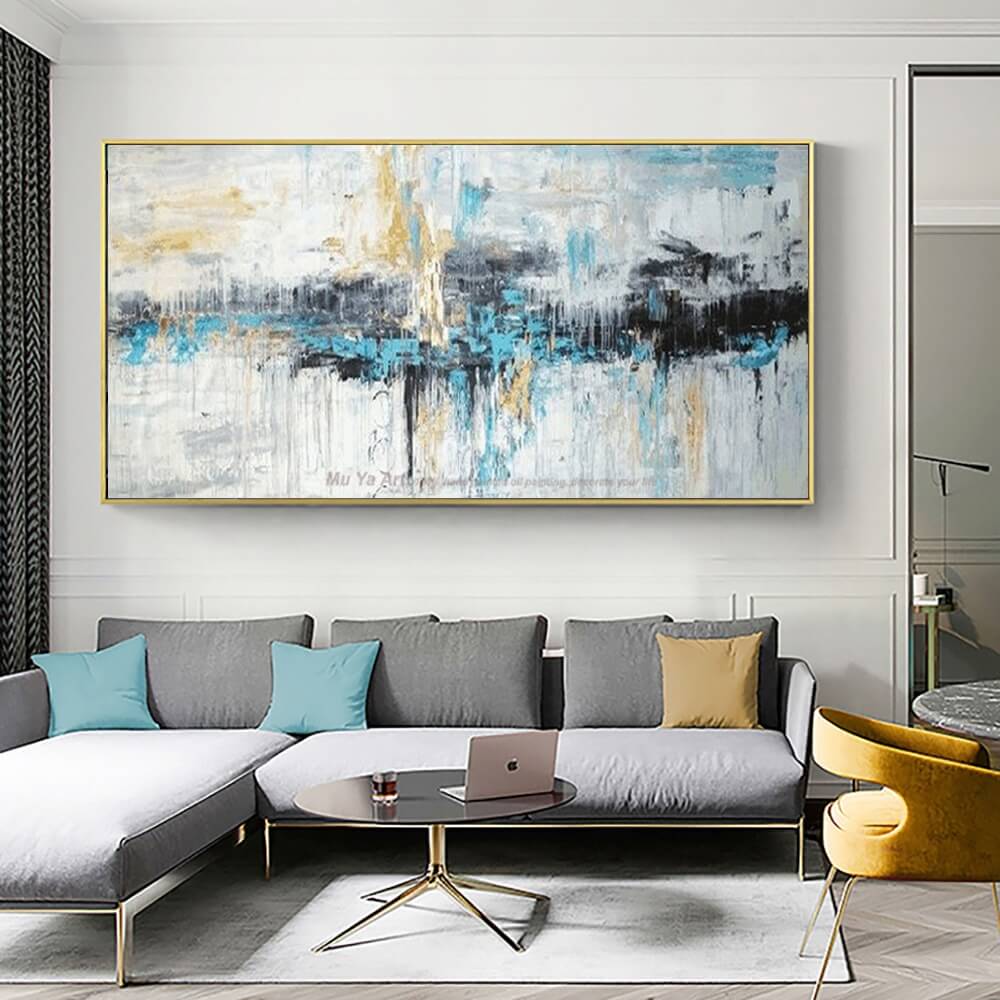 Modern office wall canvas is in trend now. These office designs with modern wall canvas trends are slowly taking over but it is very useful to keep the employees happier. energized, and more productive than ever. If you are searching for modern famous interior designers for modern office interior design, then you have come to the right place.
5. Office Decals Motivational and Inspiring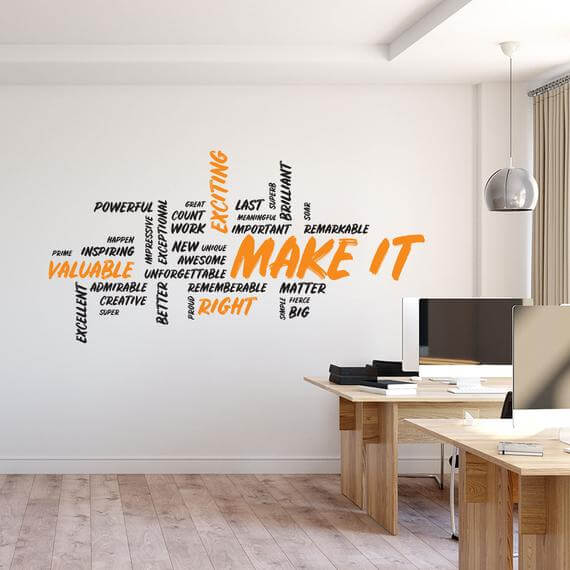 Office wall decals are an important and major ingredient to pin up notes and things on board. So you can buy and adorn them on your working table drawer. Go with motivational and inspiring wall decals and hook them up and let them shine.
6. Wall Stickers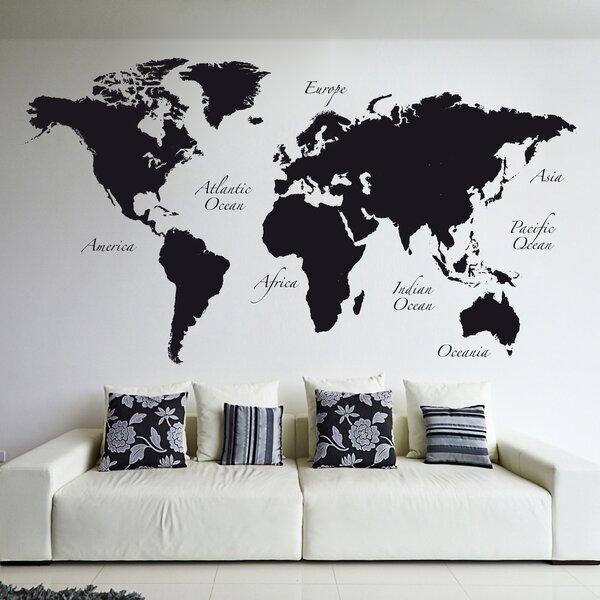 Bring the wall stickers for the office wall. wall stickers like Map sticker, Historical wall stickers and amazing other stickers to your choices and stick them into the walls and make your office wall shines and bright uniques touch.
7. Wallpaper Art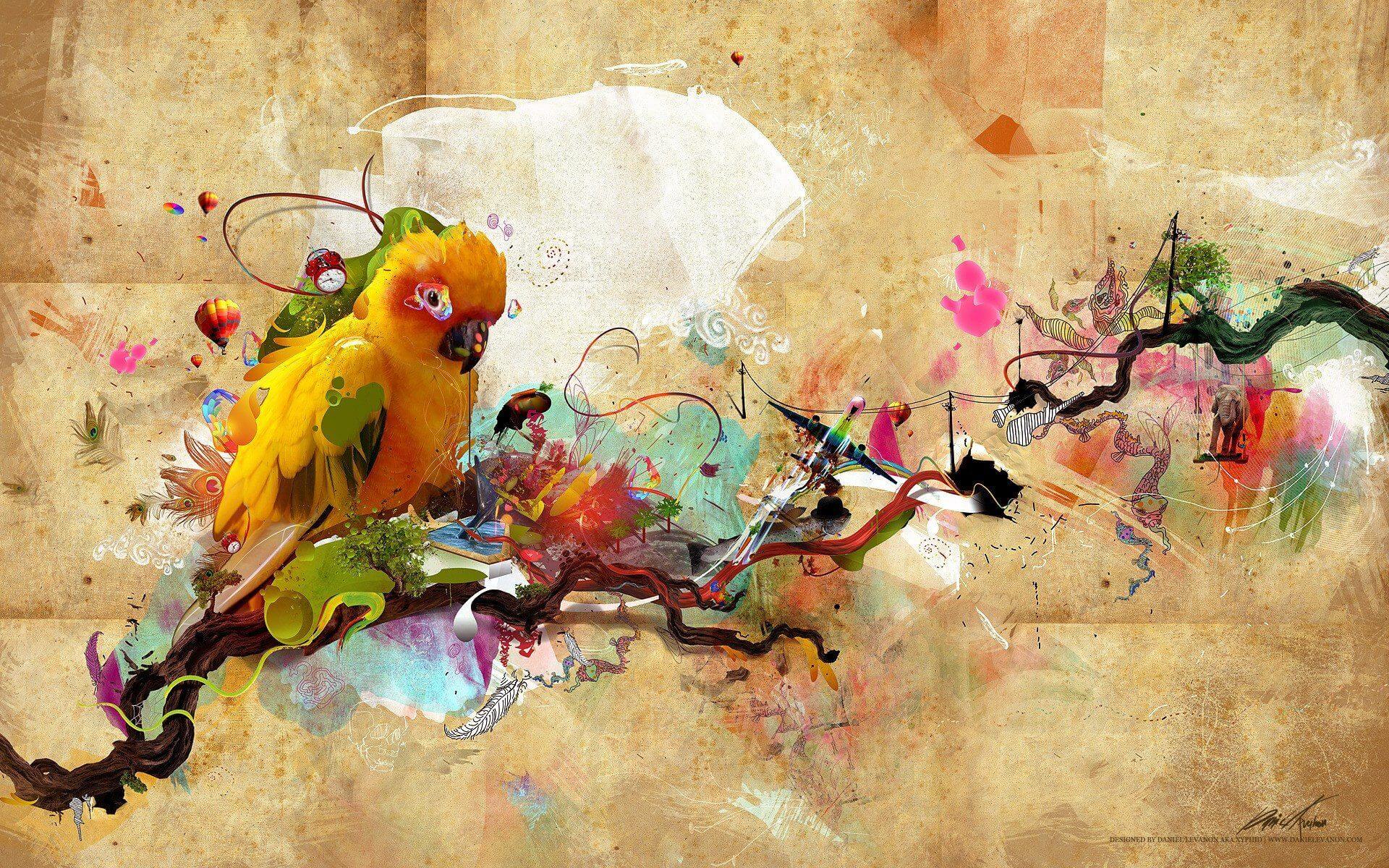 Wallpaper can drastically transform the look of any room. Office wall art is usually underestimated and overlooked at the time. Therefore, you should always pay attention to this detail. Colorful, attractive, and fun pattern wallpaper would be perfect for the stressful atmosphere of the workplace.
Nowadays, however, many businesses are rethinking this process as they begin to discover that these particular types of smart office wall art and interior designs can make their office smart and beautiful
Office Wall Decor Images
Conclusions:
Why Office interiors design should look perfect? Then add the given ideas of professional office wall decor that given ideas will help to make your office look better. There are so many designs that give your office walls into a new and incredible appearance. Because it affects your overall structure and it creates a professional business image and forefront for you!
FOLLOW US