Flooring Options For Your Gym At Home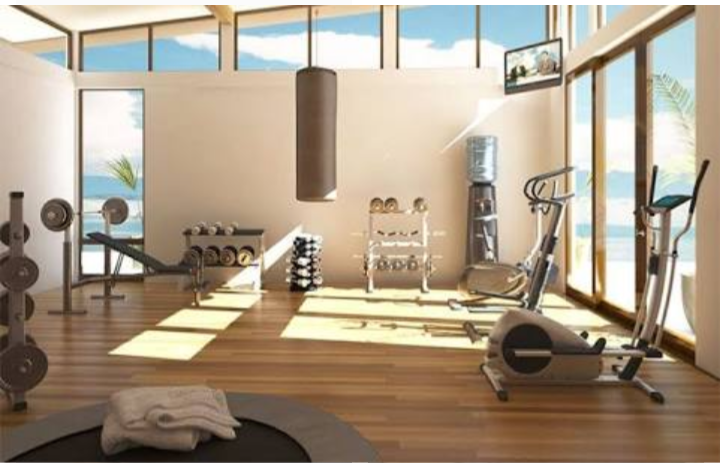 Do you know while decorating your home or your gym what brings everything together is the flooring? No matter how much you decorate the room, without a good flooring, something keeps on missing. Without the right flooring, you can have design elements all around the corners, but it will still not look right. The floor is that part or portion of the building on which the materials are stored and occupants move.
Do you not think it is an integral part of the housing as it provides a smooth, clean, preventive, long-lasting, colorful, tough and attractive surface? When it comes to the gym, the place needs to feel energetic and the flooring is very important because dull flooring will affect the mood of the bodybuilders or fitness athletes.
Source: Pinterest
Here are some of the best flooring options for your gym at home:
Rubber flooring:
This type of flooring is not only easy to install but also convenient to move out when not in use. Furthermore, rubber is durable and you do not have to acquire prior installation experiences for it. It is also available at cheap price ranges. It is good for the homes where you feel the need to install ice skating floor. The most important feature of a rubber flooring is its durability; it should last for more than ten years. When it comes to your home, it may require rigorous cleaning, but you do not need to worry because rubber flooring is easy to clean.
Carpet flooring:
If you are looking for something that is colorful and attractive, then carpet flooring is the right option for you. Carpet tiles give you a wide range of options in colors and softness. They serve a dual purpose as these floorings can be comfortable at the same time will fulfill the purpose of the workout. Carpet flooring is a widely accepted gym flooring when it comes to the gym at home.
Gym flooring:
If you are looking for something that is easy to install then you should consider gym flooring, because these floorings can be installed within minutes. They are easy to clean, RE is comfortable, and the best feature is that they are soft. During the workout, there can be chances of slipping or losing your body balance, but there is nothing to worry as you will get hurt on these floorings. Foam tiles are lightweight and they are the favorite options for parents. Due to their portability, they can be shifted from living rooms to a family room or to the balcony as per your choice.
Vinyl flooring:
For homeowners, vinyl flooring is a good option to consider. Vinyl is naturally resistant to fungus growth and works well in extreme weather conditions. These tiles are the best option for home gyms. They are good for garage and home gym, as oil and other solvents will not affect this flooring. They are easy to install, naturally flexible and easy to clean for homeowners. It is also good for when you will be installing large equipment for the gym.
Image source: Pinterest
In addition to these, you can try out samples of flooring when in doubt, and keep on enquiring what sort of tiles will fit in your home gym. Go for the options you love and do not hesitate in asking for samples and trying out at your home first before installing.
FOLLOW US