Top 5 Reasons to buy Ceiling Beds for Home Decor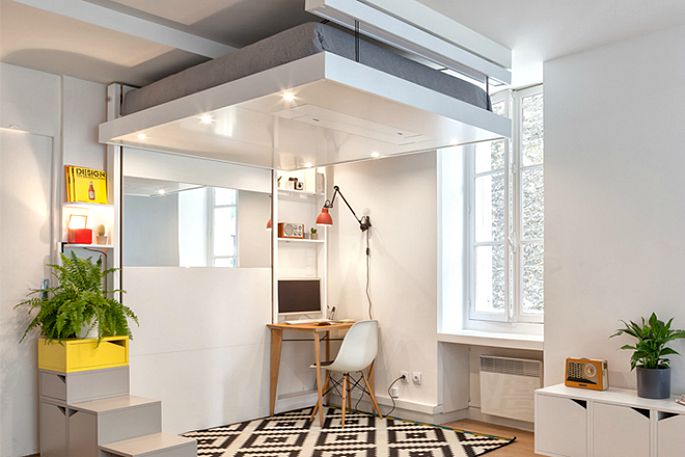 Lots of people these days give emphasis on space efficiency when it comes to home enhancement, especially in urban settings. A property worth is determined smartly these days on basis of perfect utilization of available space. Ceiling beds are one of the finest and innovative example among them.
Buying ceiling beds may be considered as a part of lavish living style but, it is investment worth undoubtedly! Of course, ceiling beds or any other furniture that comes with features like retract ability or concealing are high on space efficiency so, it doesn't sound like painful experience to spent money on such innovation.
Let's look out, what other than space efficiency ceiling beds are good at!
Five Reasons for buying Ceiling Beds
A worthy investment
Let's give it a insight from a different perspective. You visit some art gallery, buy an artifact or some masterpiece. It will decorate your walls for sure but, it has no utility at all. So, it definitely makes sense to spent a large chunk of money over something that really solves a purpose.
It need secure mounting points on ceiling too which can bear their load easily. Also, there has to be some mechanism which helps the bed in lowering down or raising it up. So, it also add to additional cost which makes ceiling beds a pricey option.
Praise yourself over the unconventional move
As mentioned above already, ceiling beds sounds like innovative concept, it is something that is new and never been seen before! It will stand you out of crowd.
Just imagine a bed that hide out itself in ceiling is not an ordinary sight to see, and anyone who comes to your house who will see it coming down from ceiling get amazed!
A step ahead over Murphy Beds
Murphy beds do require space even when they are retracted. Also, both mattress and pillows have to be removed when beds are not is use. While bringing back the bed on floor, you have to rearrange the mattress and pillows which is again a
time consuming process and an irritating experience.
Ceiling beds on other hand doesn't need any extra space as it mounts towards ceiling. Bed hang in mid-air while you in deep sleep and as sunrises, get out of bed and retract bed to the ceiling.
With help of crank mechanism bed can easily be retracted or lower down as per requirement without much effort in fraction of seconds. New generation ceiling beds are equipped with hydraulic motors so, it makes easy to operate bed just with push of a button.
More versatility

Again credit goes to crank mechanism, the bed can be lowered down to a proposed height, thereby allowing it more versatility to stationed it at confirmed height depending on available space below. It is really beneficial when you are not in mood to rearrange your furniture.
Mobile mezzanine
Vertical moving mechanism also gives you flexibility to turn your ceiling bed into a mezzanine.
Installation of Ceiling Beds
Ceiling beds are quite hefty as they have to bear the load of two individuals at the most along with bedding and frame. So, before installing bed make double sure the ceiling can hold such weight.
If the bed already has vertical mounts which holds weight and counterweight, no need to attach it to ceiling. All the weight shifted to sides and pulley scaled on vertical columns but, this will take space as frame need to be installed.
Following are the two major concerns that need to be addressed right away!
Safety concerns for kids – As per Consumer Products Safety Commission (CPSC) guidelines, make sure the bed is not more than 30 inches off the ground for kids who are under the age of six. Absence of guardrails will be risk-prone for kids at that height.
Thickness of mattress – It is also an important factor bring into consideration. The thickness of the mattress should not be more than 8 – 12 inches which is equivalent to guardrails of bed. It should not obstruct with CPSC guidelines that mentioned distance between bed and ceiling.
FOLLOW US