Curtains For The Arched Windows Best Ideas & Treatments
Curtains for arched windows, although mostly associated with Roman architectural designs, you can add a timeless look to your modern home. Its vintage appeal can help you open up a room and create a more dynamic living space.
Choose curtains for an arched window's from proven designs that maximize the classic beauty of your House, while stylishly addressing potential light control and privacy concerns. Curtains for arched windows have scarves designs, that will help you in decorates your home interior furniture or designs. curtains play the best roll to your home, it gives your house a new and beautiful royal look also.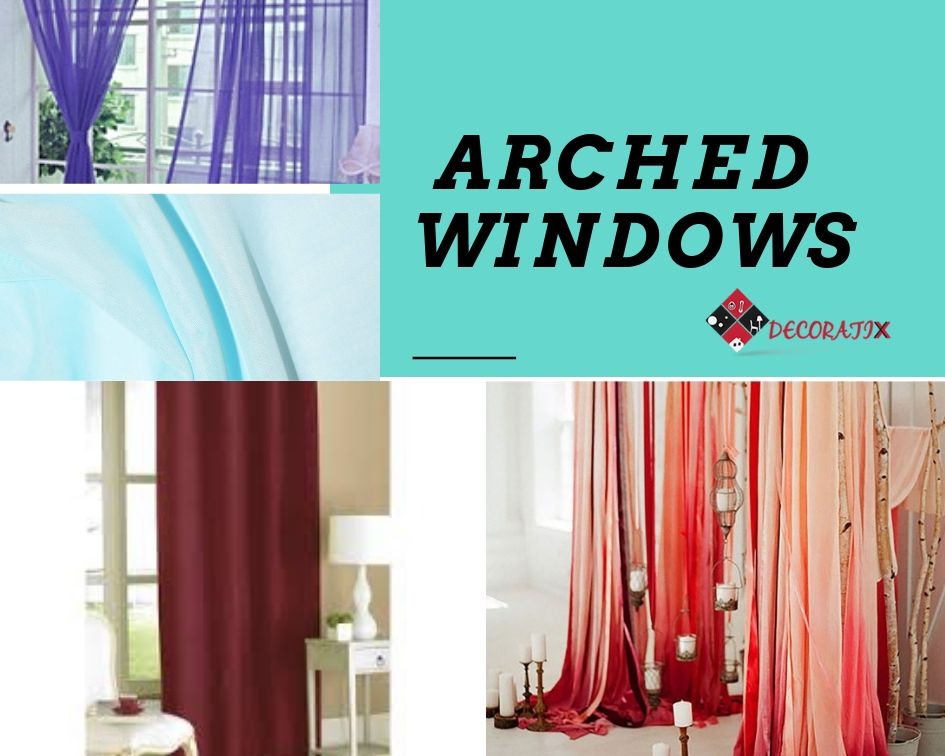 Before you install curtains, you must have to set the following guidelines on how to install, its size & way to dress.
1) Arched window size
You can create an arch in any size according to your space. when you have multiple window setup. Two stacks of tall rectangular windows below an arched window can be placed in the wall. This can add distinctiveness to your home.
2) How to Install
Installing an arched window can be challenging, Figuring out the proper size for opening requires more attention than regular for any window.
3) Ways to Dress Your Arched Window
Beautiful Drapes
Color Shades
Install with Shutter
Blinds for arch
20 Best Ideas for Arched Window Curtains for the perfect finish touch.
Let's have a brief about all these beautiful arched curtains with the images of arched windows.
1. Modern Red and White Curtain for arched window
Modern red and white curtain design for an arched window, a beautiful combination, a red and white a fantastic color combination for any type of exterior window design. that describes your walls and rooms into a new fantastic look for the beauty it gives a royal and impressive look.
2. Natural panel Curtain
Natural panel fringed set of curtain it brings a luxuriously upscale farmhouse look to your house or retreat. A lightweight creme shade tobacco cloth drapes your window in sheer elegance with a soft and simple, classic look. you can also add some other small panel curtains on the arched window to get an instant look.
3. Small Sheer Curtain for Kitchen
Arched window curtains idea for the kitchen windows. it can come in many forms and designs, some are one of the easiest ways to make a visual impact for the modern kitchen. Where ordinary curtains as window coverings can work for just about any window style or size, and they do not need to be expensive and classic to look nice. Add some sheer curtain for the small arched window it gives the pretty look and easily attaches to small windows.
4. Stylish light colors curtains for Bedroom
When it comes to color the room a theme-based like blue color, Perhaps no space is better suited than the bedroom. A light blue channels tranquility, serenity, and an open spacious reminiscent of the sky and the sea. So palest the whisper-soft of blue or something really regal, ahead of a with blue color curtains.
5. Striped Curtains for Guest Room
Striped Curtains for Guest Room drapes could also be easily created with ready-made panels cut into strips and sewn together. The technique I used is not permanent. Something to consider before starting this project. And let the wall shine, with striped curtains. You can also use other striped drapes for the patterns of your choice.
6.Levolor Light filtering cellular arched curtains
A complement your hard-to-fit arch windows- Include the perfect arched you can also use half perfect arch made with custom filtering cellular curtains to your home.
7. Contemporary window valance cornice
Contemporary window valance cornice, this is roman had style topper to window scarves, and also include more another architectural look. so many options like cornices, which are wooden or metal boxes, sometimes covered with a good color-themed fabric curtain.
8. Aria Embroidered Drapery
Discover with stylish arched window designs at Ballard/aria designs and find the perfect new cotton aria embroidered curtain panel for your house. And hang it on your arched windows.
9. Add multiple arch windows curtains on with adjacent walls
Windows do not only stand solo, but often come in pairs, trios, or greater multiples. Whether treated individually or as a group, multiple windows in a room require decent window curtains. So how these expansive curtains of arched windows and to get dressed to the home. while the wall providing a smart functionality for the house.
10. American red curtain scarf from chiffon fabric
American design of red curtains scarf and arched window valance, this type of curtain consisting of two layers of curtains in red and white scarf this scarf is one of the latest designs for arched window decoration. An American curtain model made of transparent chiffon fabric, it's so stylish option for beautiful window design and homes.
11. Classic design Greek-style curtain
This is one of the best Greek curtains tastes, in white with brown and a classic curtain model, A Greek design curtain uses for a royal look it makes your room window more presentable and unique. you can use it in other areas as you like to decorate your homes.
12. Sewing curtains for bedroom
Combined curtains in white and pink tones that perfect choice for any kind of people. Sewing curtains for his/her bedroom with a gentle soul. Stylish sewing bows give the room a romantic and lightness. This swing curtains a perfect solution for those who do not have enough fabric for the width of one window.
13. Black and white curtains
These black and white striped curtain panels are the perfect way to easily update any bedroom or living area. in the market stock, there are available so many different pretty curtains, select black, and white color printed curtains and explore your arched windows and doors decorations.
14. Pom-Pom tieback curtains
This is a great idea for the renters or anyone, who doesn't want to drill holes in their walls for a curtain tieback. Gather your curtains up with festive pom poms using this easy and cute tidy pom-pom tieback to your arched windows. Pick yarn colors that complement your curtains, and this look can be achieved best as possible.
15. Classic curtains and drapes in blue tones for living room
The classic curtains and drapes give us awesome look like a luxury interior, this is one of blue curtains and drapery for living room window coverings, it's made of blue bright curtain fabric. Classic curtains and drapes look so fantastic and pretty.
16. Top catalog pinch pleated drapes
Top collection of pinch pleated and catalog pleated drapes or pinch pleated curtains decorate and covering your windows with contemporary pinch pleated so create with drapes style and get unique look for your home windows.
17. Go With the Curve
If you don't have an extra budget for the custom curved rods and curtain panel, then create this semi-custom curve style design. Sewing loops or tie along the top hem of your curtain panels. Also, you can buy expensive drawer knobs drapery medallions and install them along and above the arch in increments corresponding to the curtain loops or tie the curtains with the beautiful curtain panel.
18. Roller blinds on the interior design arched window
Window roller blinds are basically a rectangular piece of fabric attached to a wooden dowel or metal tube, mounted between two brackets secured on your window. For simple and unique designs add different fabrics, UV protection, and even blackout features and they become highly functional.
19. Arched windows curtain with ties
Make interior modern and original arched window curtain with a tie with pleated drapes. Pinch Pleated drapes are an ideal use for interior, executed in a minimalist style and high-tech. Unusual home decoration for windows with ties with the curtains, emphasize strict clear lines uses in the interior of an office or apartment.
20.Traditional Drapery with Goblet Pleats
Hanging from rings with the decorative rod, go with this triple-pleated valance in a lively floral make a casual companion for the French country style curtain looks. For the contemporary appeal, skip the pleats and attach the valance with the stylish rings and clip-on rings. it will create a French-style look for the arched window curtains
Best 5 Tips for Hanging Curtains
Windows curtains are one of the main ingredients for any indoor decorations. Add a distinctive touch to grand victorian, modern lofts, and tract home alike. Here are a few tips for hanging curtains for the arched window on how to install them.
1. Always hang curtains as close to the ceiling as possible. Because it is usually thing to before hanging curtains your rod needs to leave an inch for access, to easily hang it.
2. You can have both blinds and curtains. it gives a privacy wall touch to your room and homes.
3. Don't ever worry about your windows being too large. if your window size large you can add three-pack of curtains that cover your large window and let them shine.
4. Make sure your curtains complement the rest of your furniture. A perfect arched window you can add some pretty furniture matched rods that complete your overall structure of the window.
5. When you choosing between wood slat blinds and roman shades. It all depends on how much light and privacy you want from your window. Slatted blinds allow you to adjust the amount of light a room gets, while roman shades don't let any light in.
Let's continue reading about the arched window treatments
1. Balance Privacy Light
Curtains balance the privacy wall. Leaving the arched portion of the window untreated it will allow you to have more natural light into the room without sacrificing privacy. If you want to have the privacy option you can always go with motorized blinds/shades, or dark color curtains.
2. Know what you are looking
Alternatively, you can install an arched curtain rod and use off-the-shelf curtains. This option will allow you to show off the window's elegant arched design. Attach them to the curtain rod along its length, to avoid sliding like regular curtain hooks or rings. anythings else you want you can add it without hesistation.
3. Always Measure before you Buy Arched Window Treatments
As per the length of the curtains, for a modern style, leave them a quarter-inch off the floor. For those that value arched windows and want to enhance their visual appeal and character, using slightly too long curtains that puddle on the floor, will give you the much-desired classic look.
4. Leave them open
Windows are the area everyone loves to stay there with a mug of coffee. So before start coffee, you need to create a window sitting area and leave them an open window area like the balcony. As you can see, there are tons of options to choose from when covering specialty shaped windows! try that and make them shine.
5. Mount outside the frame
Most of the people prefer to mount their arched window coverings inside of their window frame, creating a really custom look. But, if you want to be able to cover an arched window completely you can always climb your window treatment outside with the window frame.
Conclusion
When we think about our home decoration, so the first thing is that what are the main factors and kinds of things, what things can make our home more beautiful and unique. So here is one of the other things are curtains for the syle of arched windows for a house which also helps you to decorate your homes. as the given ideas may it will help you, how to set and install the curtains on the arched windows.
FOLLOW US