Easy Ganpati Decoration Ideas for Homes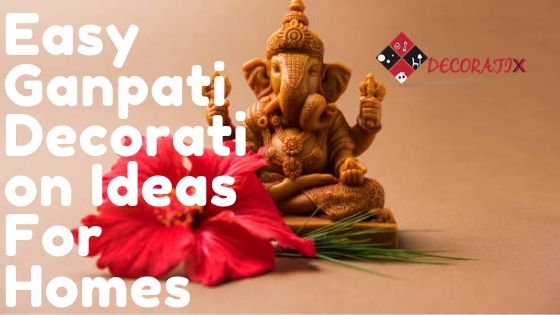 The entire people of the nation are geared up for the festival of Ganesh Chaturthi. People are setting up with the arrival appearance of Lord Ganesha in their homes with full pomp and shows. Also what makes it more joyful is Ganpati decoration. Everyone tries to come up with fresh, unique and easy ideas for Ganpati decoration & tries to do something different with decoration each and every year.
Well if you are looking for creative and innovative ways to welcome Ganpati Bappa then look, We will make it easy for you by providing the Easy craft ganpati decoration ideas at home, pandal, etc.
Here are easy and stunning Ganpati Decoration Ideas for your Ganpati Pandal to beautify the home of Lord Ganesha!
DecoRatix brings you to top 20 easy and innovative Ganpati decoration ideas for the home which is not only creative but easy on our pockets as well.
1) Sprawl It Up and Let The Drapes Fall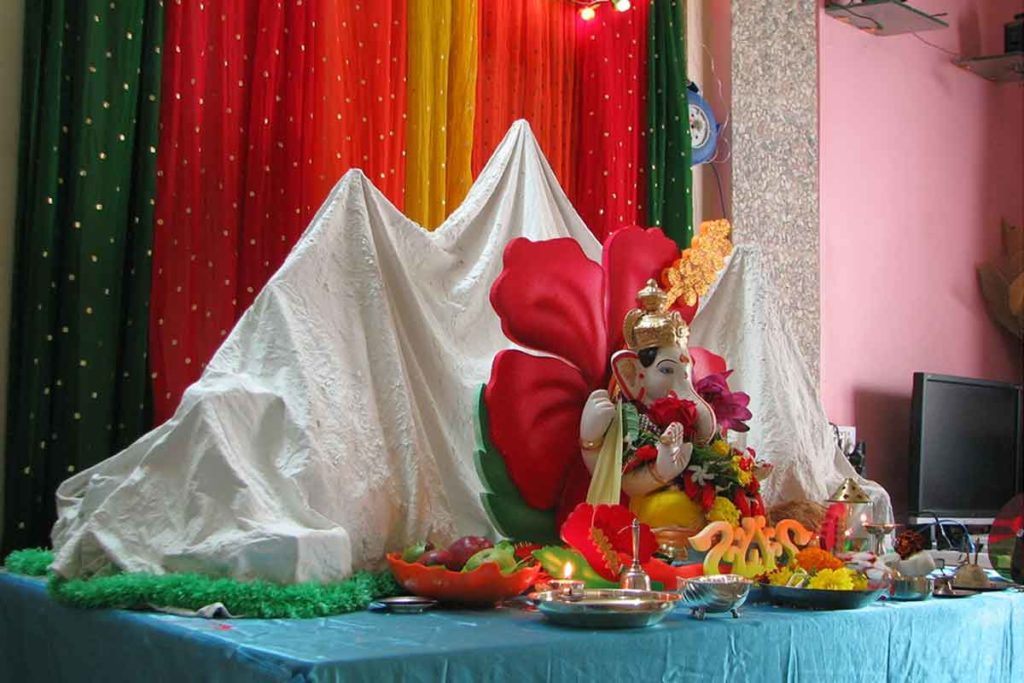 Drapes not only look colorful but energetic essentially well. Just pick few fillies & fancy sarees and dupattas, hang them behind Lord Ganesha idol and create an indent curtain looks. You can twist and put it on the edges of the table as well as create a well welcoming background.
2) Ganpati Decoration Ideas At Home With Flowers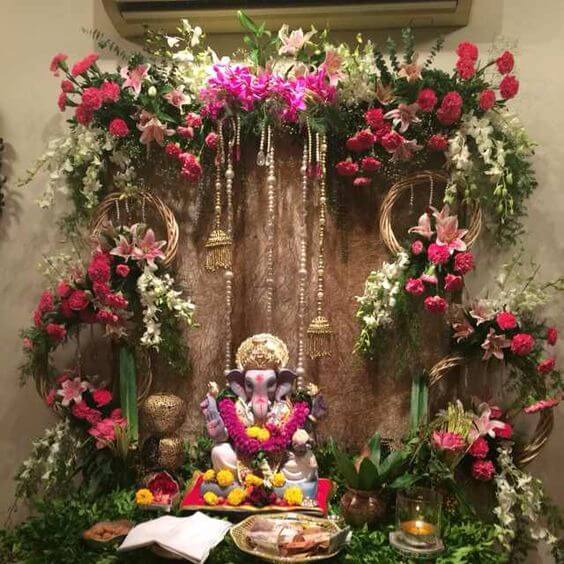 Flowers are one of the best ways to decorate your home for Ganapati. So choose flowers of various shades and colors and arrange them in a different pattern on top of the mandap. These various shade of the flowers gives a beautiful decoration design for Ganpati puja. You can add a multi-color of flowers that gives beautiful designs.
3) Elate Ganapati Mandap With Paper Pinwheels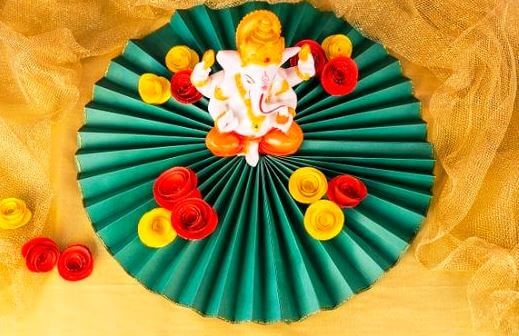 Ever thought that colorful paper fans could be used in Ganapati decor? This innovative Ganpati decoration ideas for a home will definitely make people startle. Just get colorful papers & make your Ganpati mandap with paper pinwheels. You can hang it on the background wall and make the background looks perfect and Ganesh Ji decoration ideas stand out.
4) Ganapati Decorations With Drapes & Flower Bunches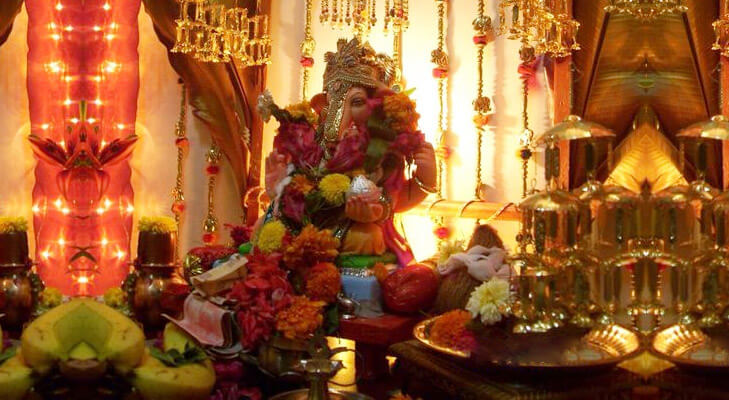 Ganapati decorations with drapes & flower bunches choose various flowers of different shades. And arrange them in beautiful patterns. You can also add and arrange them in the form of bouquets or on the top of the mandap. Because for any celebration that all need beautiful decorations so decorate the mandap with the colorful drapes and some bunches of Lilly.
5) Ganesh Decoration Using Colorful Rangolis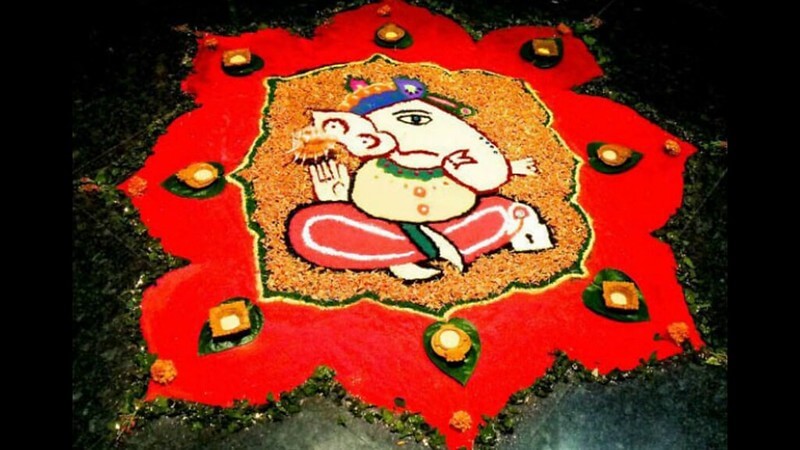 Make magnificent rangolis and spread some beautiful colors on the floor. You can also use flowers of your choice to make interesting designs and patterns for Ganpati. Rangoli is cultural of Indian festivals without color all the festivals are incomplete. So make a welcoming rangoli for the Ganpati pooja.
6) Lightning Decoration ideas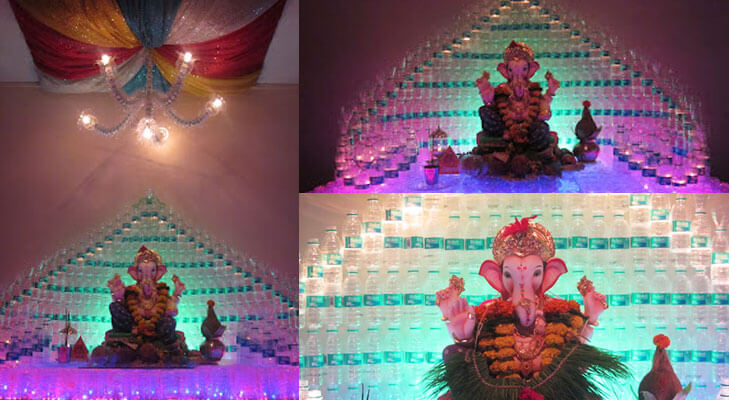 Lightning does play a very important role in any type of decorations. It gives the decoration a complete and one of a kind beautiful touch. Nowadays there are a wide variety of lighting options available in the market from fairy lights to different LED lights & using them appropriately will not only transform your home but will also give Ganpati decoration a complete feeling.
7) Go Green Eco-Friendly Ganpati Decoration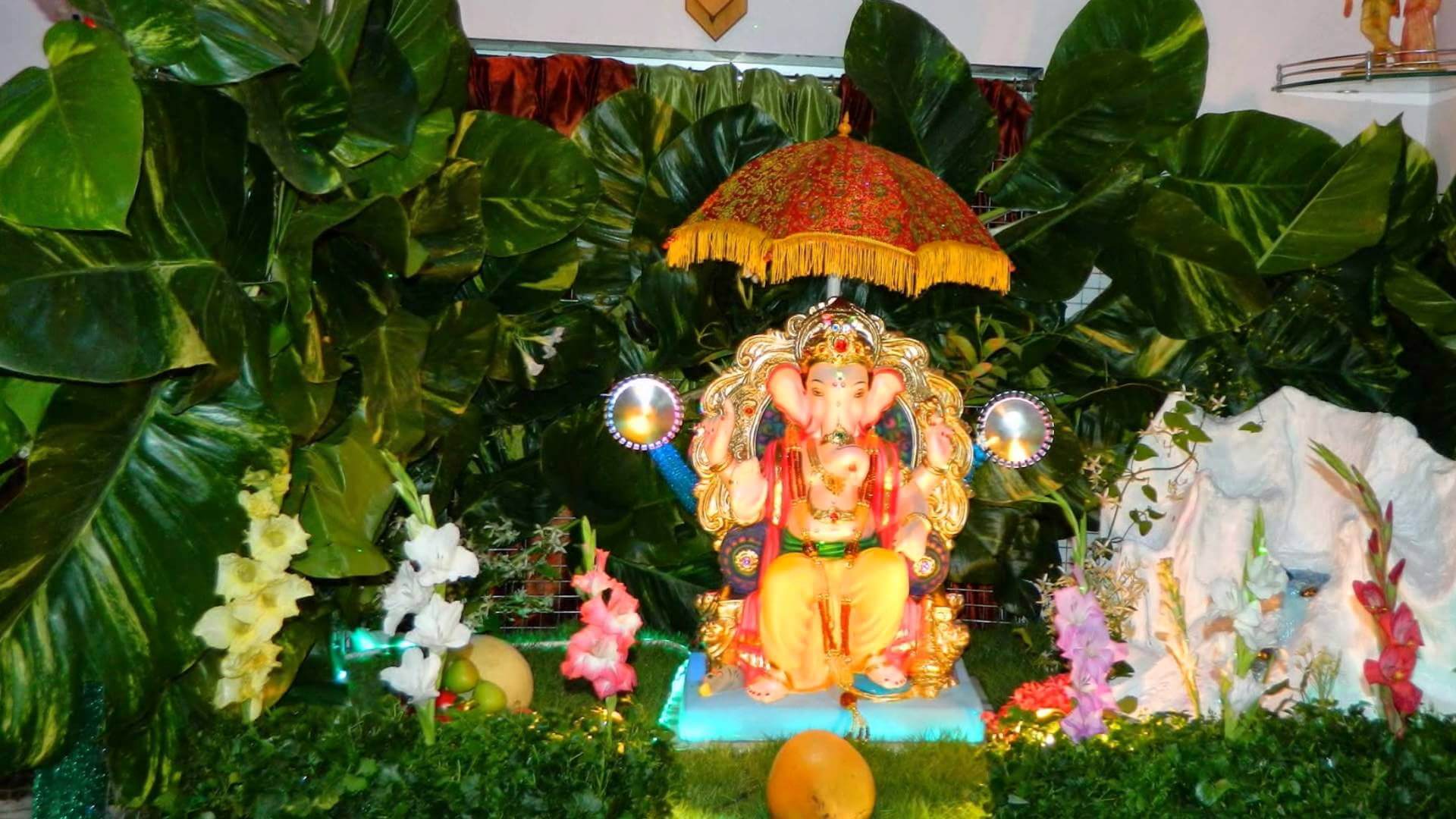 If you are the one who likes greenery things of decorations. Then this Eco- Friendly Ganpati decoration ideas will definitely give your Ganpati mandap adorable looks. To add freshness to the decor. From bamboo sticks to green leaves just try any of this eco-friendly Ganpati decoration this year and go green with Ganpati.
8) Ganapati Decorations With Streamers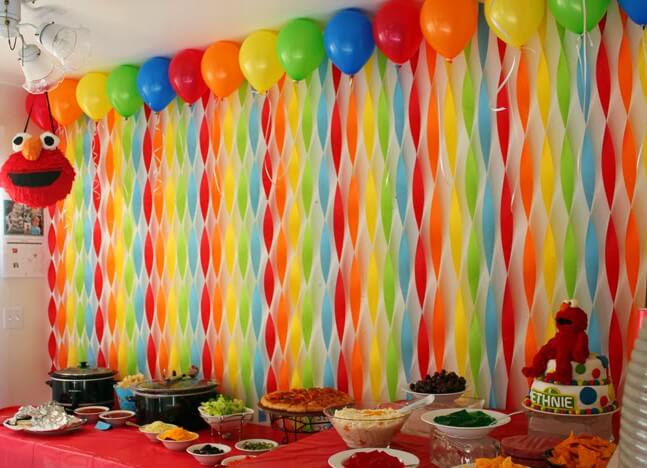 These strings of bright-colored streamers are available in different sizes. it will not only beautifully enhance the entire settings. Also, it gives shines that uses the area of decorations. You can also be used even after the festival is over.
9) Adorn Ganpati Mandap With Peacock Feathers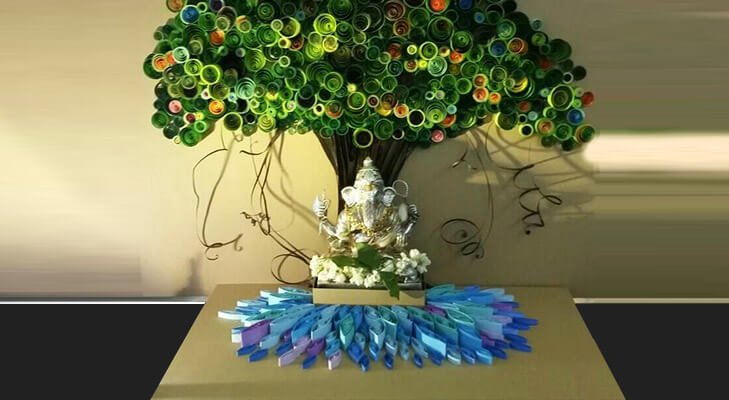 Adorn Ganpati Mandap with peacock feathers. Peacock feathers have its own charm. So add thermal peacock feathers in the backdrop and embellish peacock feathers in front of the idol of the mandir designs. Its feathers are used in many ways in the house.
10) Decorate With Garland Strands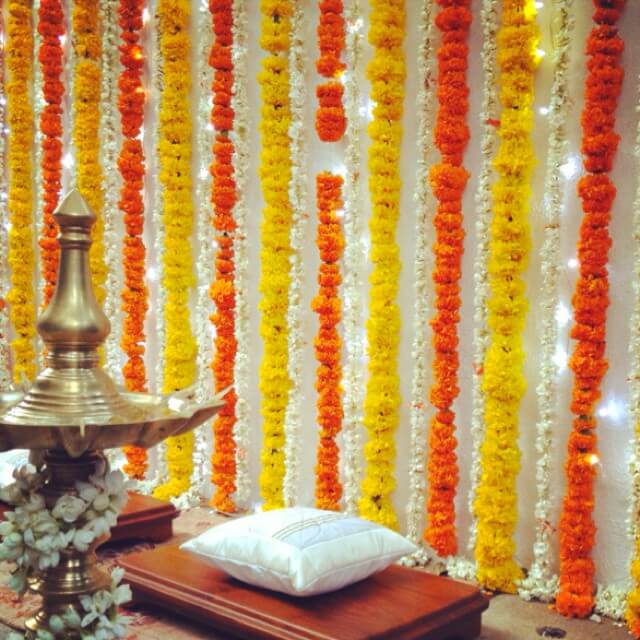 Decorate with garland strands and make Ganapati Decoration designs at home impressive with this simple yet beautiful decor. Take a long strand of marigold flowers and white jasmine and hang them behind Lord Ganesh's idol and get a pretty look for the Ganpati pooja.
11) Colorful Paper Ribbons Decoration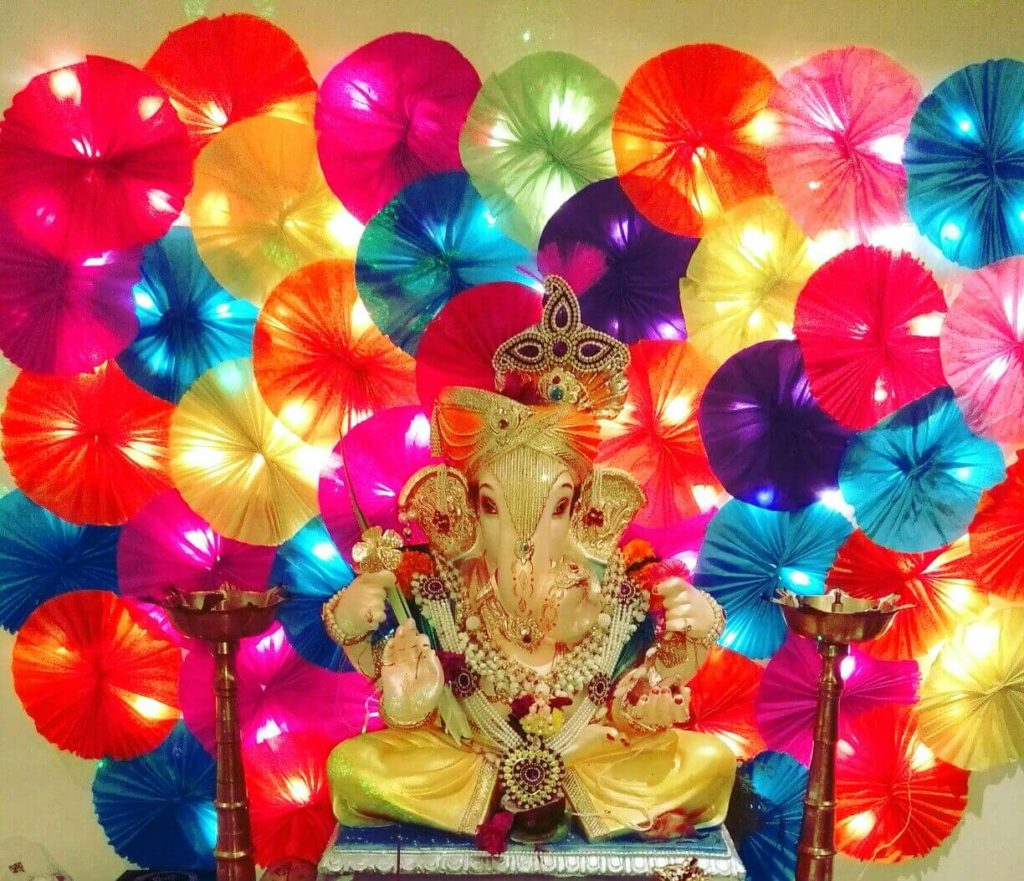 With just the help of white paper and stencil, you will get budget-friendly decorations for this festival. Embellish the backdrop with white paper lilies and get Ganpati decorations designs and ideas. That would make the entire set up and give look wonderful. Colorful paper ribbons not only looks beautiful but also add tons of colors and depth to the decor.
12) Decoration Ideas With Candles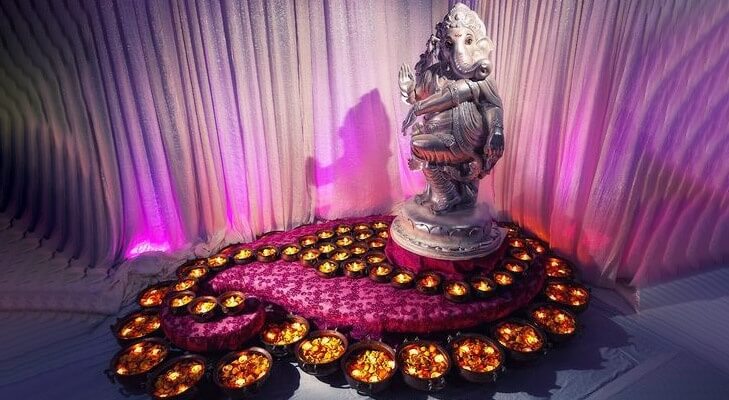 Candles are used for the lighting effect in all the multiple decorations that gives a bright atmosphere and a lightning effect for the area. You can use so many types of color candles for the Ganpati decorations and create a wonderful atmosphere for the pooja. Also, you can use a variety of scented candles to create unique Ganapati decoration at home.
13) Shell It Up Ganesh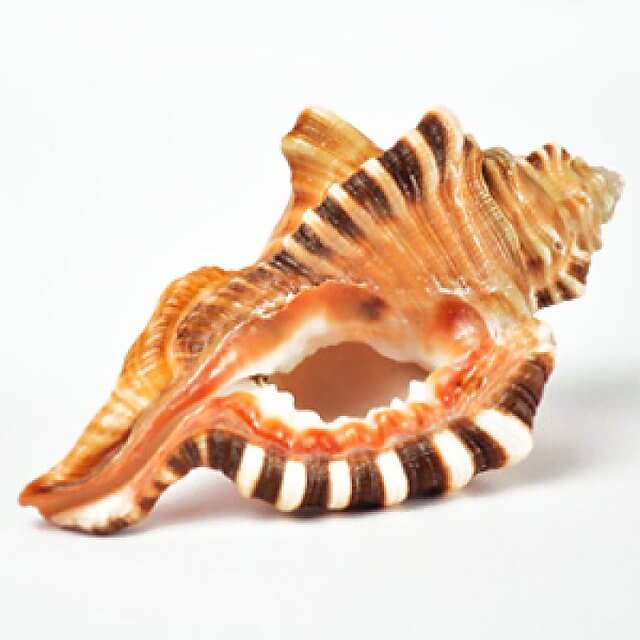 This unique Ganpati decoration for the home will let Ganpati Bappa sit under a beautifully decorated wooden shell. Other you can add some Banarasi sari and sit the Ganpati on it and cover Ganpati from the backsides.
14) Create a Royal Welcome For Bappa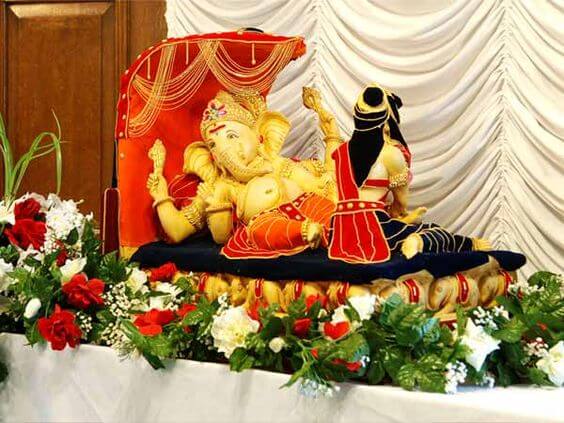 Ganpati Bappa visits our place once a year then why not to give him a royal and grand welcome. So create a royal bed for sofa couch for Lord Ganesha. And decorate it with different fabric, shinning drapes and make beautiful mandap designs or other decorative items.
15) Deck It Up With Kaliras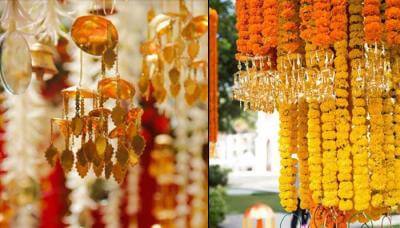 Kaliras look really pretty and combining it with gold danglers. It will make Ganesh decoration at home come to life. This kaliras gives beautiful designs and hang them on the roof design for the Ganpati mandap. That looks so pretty front.
16) Red Floral Bed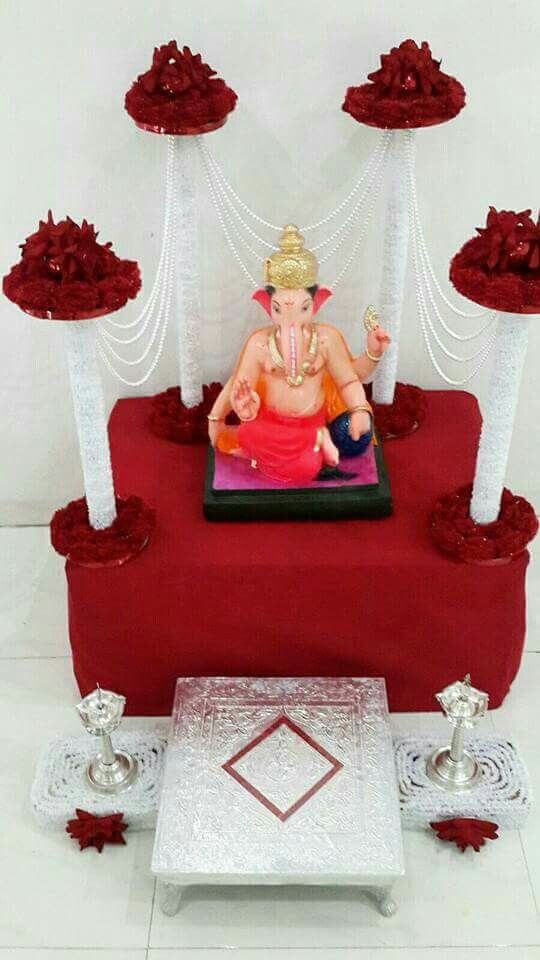 The bed where your Ganpati will be sitting on those days. So you should remember that a red floral or other color or floral decorations design create a floral bed and place for Ganpati.
17) Brighten Up The Festival With Drapes and Lights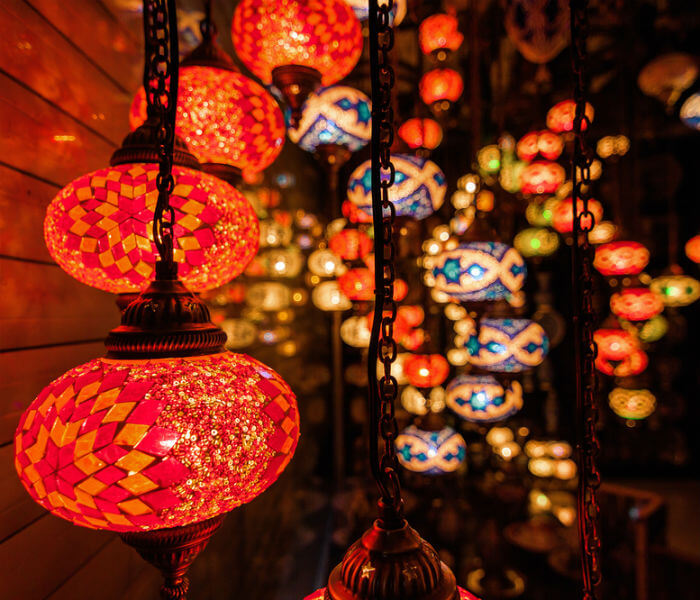 This festival brightens up with the festivals and the colorful drapes. And Ganpati decoration at home will illumine and lights your place with an LED light effect and beautiful drapes. just a little bit of lights and colorful drapes will do wonder for the celebration for Ganesh decorations at home.
18) Gleam It Up With Diyas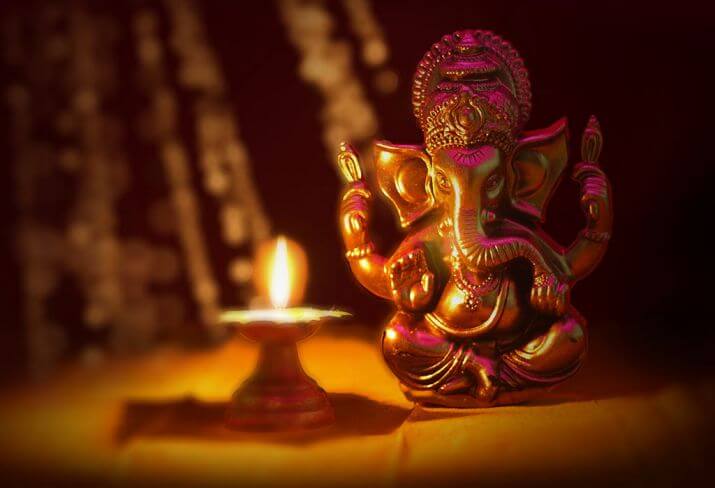 Illuminate Ganesh decoration at home with beautiful traditional diyas. And you can also use earthen diyas to decorate the mandap and create an enlightening feel for the Ganpati pooja.
19) Set a Chariot Scene With This Innovative Ganpati Bappa Decoration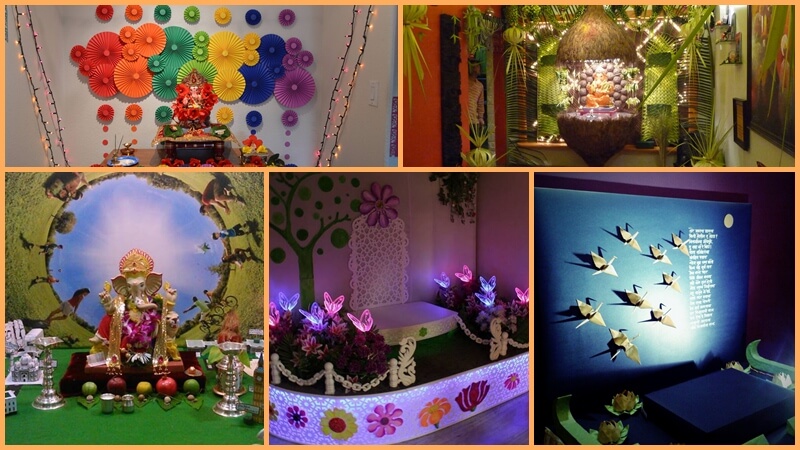 Welcome, Ganesha home on this beautiful chariot decorated with flowers, lights, and other small ornamental decorations and designs. That will definitely give your Ganpati mandap a Chariot scene with this idea.
20) Ganpati Decoration on Swing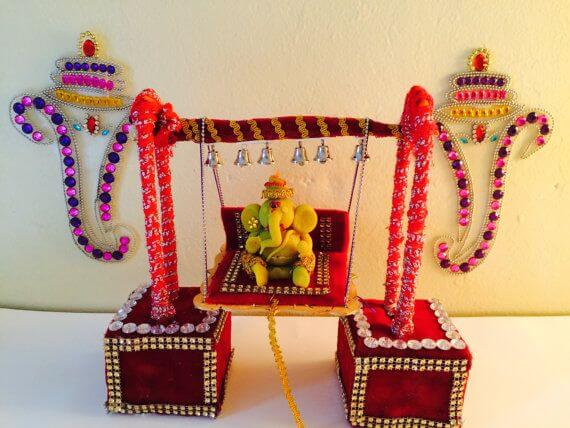 Most important part Ganpati swing. Where all people can easily swing Ganpati Let's gladly welcome Lord Ganesha on a beautifully decorated swing on Ganesh decorations at home.
That's all!
Editor's Note-To make Ganpati decoration fast and beautiful we have added a few affiliate link that helps to buy the product for Ganpati decoration
FOLLOW US